If you're looking for educational and creative gifts for your special high school students, then this post is for you. Here are five courses that teen entrepreneurs will love because they will help them begin or grow their unique business.
This post contains affiliate links for your convenience. I will receive a commission if you purchase from these links. Thank you.
Teen Entrepreneurs Who Sell Handmade
Your crafty and creative teens will love taking a course that gets them started with an Etsy shop, teaches them how to make it profitable, and also helps you to count it for elective credit!
The Selling on Etsy Masterclass for Teens will walk your teens step-by-step through this process and give them short assignments to complete in a structured format so they have accountability.
This course will help your teens:
Learn about the Etsy platform
Complete Market research about potential products
Create an Etsy shop
Improve photography skills
Write professional sales copy
Learn SEO
Discover best practices for customer service
Create systems and organization
Keep track of business finances
Learn about social media & marketing an online shop
Improve at their craft
Enjoy camaraderie with other homeschool entrepreneurs in a private Facebook group
This is an online course that they can fit into their schedule whenever they want! Plus, you get lifetime access to the course and any updates.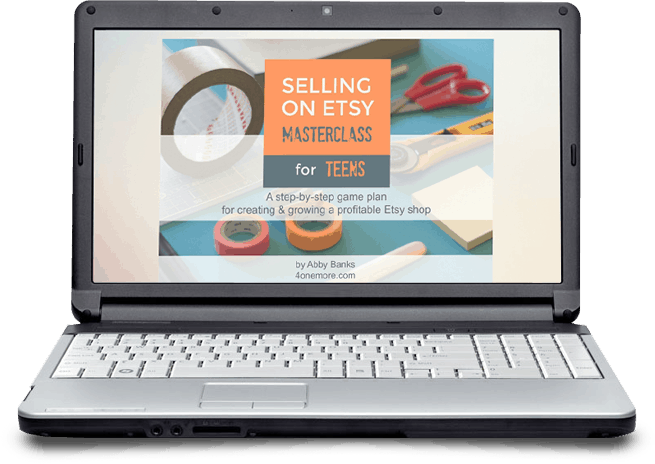 Here's what students are saying:
Last summer I joined Abby's Selling on Etsy Masterclass for Teens. I was 12 at the time, and only had a couple sales. Abby was quick to answer my questions. She also gave me personalized advice to improve my Etsy shop. After investing time to experiment with what worked and what didn't, I learned a lot about business and selling on Etsy. I've been able to reach over 100 sales! It's so helpful for a new Etsy seller to have a step by step action plan to start their shop. Anna from AnnaMadeDesignCo
My teen has loved this course. It's so thorough and easy to follow that it has finally given her the confidence to open the shop she's been talking about for years. And she had her first sale within hours! Laina of www.trianglehomeschoolresources.com
You can save 20% with the coupon code MOXIE
Courses for Teens Who Want To Podcast
Believe it or not, your teen can start a podcast with $0 upfront costs (as long as they have access to a smart phone!). Things have gotten easier in the last few years since I started my podcast. I used to pay $15 a month for my podcast hosting, but now with Anchor.fm, you can record, publish, and host a podcast for free while earning money.
In the Podcast Launch for Teens, your teen will learn how to set up a successful and profitable podcast.
Photography Courses for Teen Entrepreneurs
Maybe your teen has been thinking about starting a photography business. In that case, check out these two Photography Courses for Teen Entrepreneurs.
First, the Photography Course from Fundafunda Academy will give your teen 1/2 credit as they learn the basics of photography using fun challenges. They use a free online tool to teach photo editing, so there is no need to buy anything extra for that. Photography can be used as an Art credit for high school.
Next, the Photography Course from True North Homeschool Academy is also offered for a full semester and 1/2 credit.
During this 15-week Photography course your teen will cover the following topics:
Loving Your Subject with the Perfect Backdrop Framing Lighting Composition
Emotion
Portraits
Nature & Landscape
Still Life
Macro & Food Photography
Famous Photographers
Becoming Me As A Photographer
A Great Photograph Deserves to Be Sharp
Intro to Adobe Photoshop
The Intro to Adobe Photoshop class from Fundafunda Academy will give your student a 1/2 high school credit on completion of the semester.
There's a high demand by future employers for skills in Photoshop. Careers that would use Photoshop the most include:
Graphic Designer
Photographer
Freelance Designer
Web Developer
Art Director
If your teen has an interest in any of these areas, consider investing in an introductory Photoshop class like Intro to Adobe Photoshop from Funda Funda Academy.
Additional Resources for Teen Entrepreneurs
Summer Business Brainstorm for Teens
How to Teach Your Teens to Create Income Streams + Elective Tracking Sheet
Online Courses for Teen Entrepreneurs