I know, I know, I'm "just" a homeschool mom.  Why would I need to shop with Stitch Fix?  Here it is:  Homeschool mamas deserve to look good too.  And when you take the time to look nice each day, even if you're "only homeschooling," you will feel better and probably get more done!
This post contains affiliate links, which means at no extra cost to you, I will receive a commission for purchases made through these links.
I jumped in and tried Stitch Fix last month because I could do it risk free.
You can try it and redeem their current deal for new customers using this referral link! 
I didn't really love any of the pieces in my first fix enough to keep them.  So, I sent them all back and owed nothing.
But then they offered me a second try, also risk free (that means, without the normal $20 styling fee).  So I decided to try it one more time.  And I'm glad I did.
I'm sure my stylist had an easier time choosing items for my second fix because I gave detailed feedback when I returned my first fix.  When you check out (even if you're not purchasing any items), you will rate each piece according to price, style, fit, quality, and you can leave comments about what you liked or didn't like about it.
This time, she sent four tops and one pair of pants.  I ended up keeping two tops.
Here's what they sent.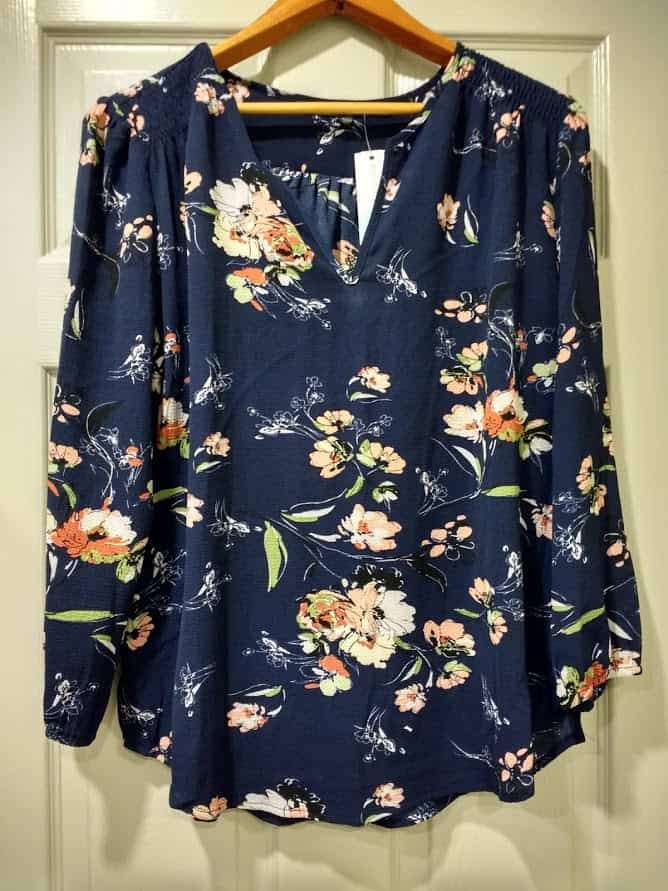 Kenmore Split Neck Blouse: $42
This was the first item I pulled from my box and I really loved the design.  However, once it was on, I realized the fabric was not that comfortable.  It seemed a little too dark, since I still have a problem with mainly wearing jeans or gray as my pants colors.
Returned
Bastille Tulip Sleeve Blouse: $38
My stylist recommended that this blouse, which seemed dressy to me, could be paired with other pieces in a more casual look.  As a pianist who plays for weddings and funerals, I know the versatility of a cute black top.  Once I tried it on, I was sold.  I loved the cut of the top and the sleeves are perfect.
Kept

Taden Lace Hem Detail Blouse: $68
I like to try on each item before I see the price so that I can determine if I like it without my thrifty side being swayed too much.  Well, I loved this piece when I pulled it from the box, but once I tried it on, I didn't like it as much.  The lace detail on the bottom was my favorite.  When I did check out the price, I was glad to see that I didn't love the top!  This price is definitely out of my comfort zone.
Returned

Goldhaber V-Neck Blouse: $48
Woo hoo!  This piece was a keeper.  Love the colors, the fabric, the sleeve style and length, the long back, and the price.  Win-win-win all around.
Kept
 
Ryder Straight Leg Trouser: $88
My stylist was trying to find me another pants alternative since my first fix included a skinny jean style.  I loved the olive color, but couldn't pull off the skinny jean.  These pants were too light, in my opinion, and I really didn't like the rolled up hems.  They were loose and it felt like a bad memory from the 1980's when we would roll up our pant hems.  When I saw the price, I was even more okay with sending these back.
Returned
Once again, I loved seeing options for dressing each piece up or down.
It is so great to be able to try on these clothes in the comfort of you own home and to try them on with other pieces you already have.
I sent the three items back in a postage-paid envelope.  And I was able to keep the other two items and still owe ZERO because I had a credit from sharing Stitch Fix with my friends!  (My husband even tried Stitch Fix for men!).
The fun news is that you can also try Stitch Fix and share your own referral link with friends and be able to earn credit to pay for some awesome new clothes!
What have you got to lose?