If you're looking for affordable homeschool curriculum for 10th grade, come take a look at what we're using this time around. As always, homeschooling from year to year and student to student changes.
This fall (2023) we'll be homeschooling our fourth child through 10th grade. You can see what was in our 10th grade homeschool curriculum plan five years ago with our oldest – yes, there have been changes, deletions, and additions! But I'm really happy with the eclectic mix of budget-friendly 10th grade homeschool curriculum options.
My posts contain affiliate links.
Homeschool Curriculum for 10th Grade
Homeschooling in the high school years can be so rewarding! Really! A lot of the success of it depends on the groundwork that has been laid when it comes to expectations, motivation, and responsibility. It's not too late to tackle those if you're just starting or if you feel like you've dropped the ball in previous years.
Here's the truth: in the high school years, you're probably more of a mentor, curriculum planner, occasional tutor, and cheerleader rather than a direct teacher with your student. The bottom line is that in these final years of high school, you should be working yourself out of a job!
Consider how your involvement goes down each year as your child (hopefully!) has increased his load of personal responsibility for his own education.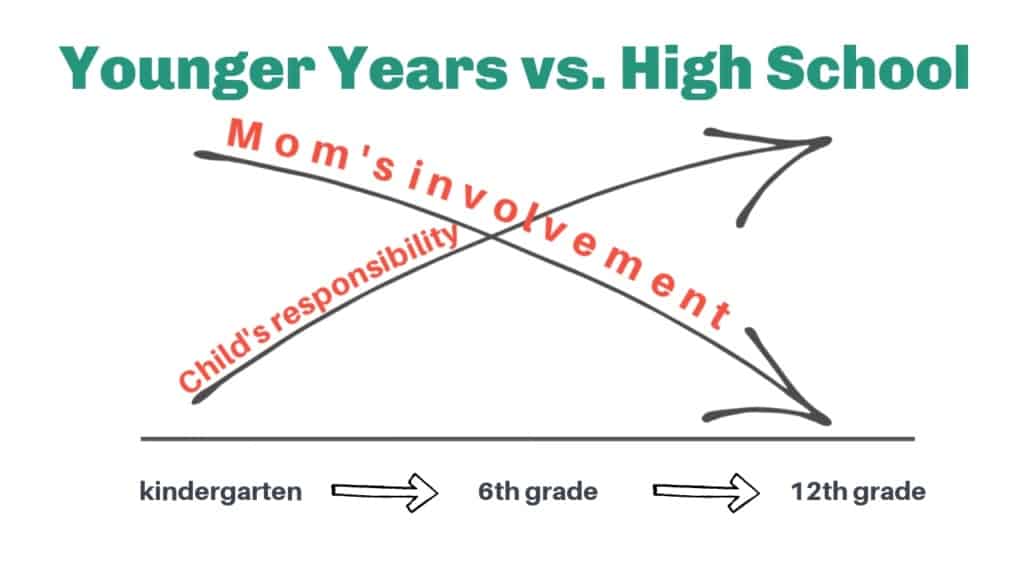 So when you're considering which curriculum to use for your 10th grade homeschooler, keep this big picture in mind.
What to Look for in High School Homeschool Curriculum
More specifically, what should you look for in your high school homeschool curriculum choices? Keep these points in mind:
What's your worldview? Do you want secular or religious curriculum?
What's your student's learning style?
Is your teen an independent worker?
What are your teen's future plans (college, military, or workforce)?
Will multiple students be learning together?
Do you hope to reuse this curriculum another year for a younger sibling?
Is it easy to use?
What's your budget?
And depending on your homeschooling style, you can go all-in on video courses, textbook-based, all-in-one boxed 10th grade curriculum from a popular publisher, or you could pick and choose your favorite options from an eclectic mix of sources. This last option is what we love to do around here.
But before I dive into our specific 10th grade curriculum choices for the coming year, let me give you a few places to look if you do want video lessons, a complete 10th grade online curriculum, or an everything-in-a-box for 10th grade.
SchoolhouseTeachers.com offers complete courses for K-12 for the whole family for one low price
BJU Press Homeschool offers video classes for all your 10th grade courses as does Liberty Online Academy and many others
You can find all the textbook-based courses you need for 10th grade from publishers like BJU Press and Memoria Press
If you want to drill down into your family's specific homeschooling style and see which curriculum would fit your needs the best, then download our free guide.
Online Homeschool Curriculum for 10th Grade Math
We've used several different math programs, depending on the grade level and our season of homeschooling. When my oldest was starting high school, we were still using BJU Press Math for everyone because it's a super solid curriculum! But when I had to jump in and help five kids with math during the week, I realized that I needed to outsource that responsibility.
So, for many years we used CTC Math for our high schoolers because it was video based and they could generally work on it independently. Plus, it cost one low family price for any number of kids.
Now that I only have one high schooler in the fall, and I can still teach fifth grade math to my youngest, I didn't want to pay the family price for CTC Math. So, we'll be using Khan Academy for Geometry.
The beauty of Khan Academy is that it is FREE but you can also keep track of your student's progress and the course if well-mapped out. I'll do a full review once we've had a good amount of time using it.
Project-Based Homeschool Curriculum for English
My son and I are super excited about our choice for 10th grade English! Since he loved Cover Story last year by Clear Water Press, we knew that Byline would be an excellent next step.
The best part about Daniel Schwabauer's courses at Clear Water Press is how they are engaging because they're project-based. Instead of doing unrelated and trivial assignments for English, your student works on a project through the entire course.
Byline teaches your high schoolers the all-important skill of essay writing – but it won't feel like essay writing! Instead, they'll be journalists covering some of the most interesting stories of the last 100 years.
You know that I'll be writing a complete review of Byline as soon as we've used it. Stay tuned!
My teen will also be keeping up with grammar instruction and review by working on Fix It! Grammar level 5 for just a few minutes each day.
In addition to this, he'll be reading regularly. Most of his reading is chosen based off his interests. However, since we'll be using Notgrass History this year, we'll likely choose several titles off their recommended reading list to correspond to his history studies.
And finally, we'll be finishing up the 12-week Introduction to Public Speaking course from IEW. If you're interested, you can even try 2 weeks of speech lessons for FREE!
Christian Homeschool Curriculum for Science
We generally stick with Apologia Science courses in the high school years. So for 10th grade science, my teen will be working on Biology. Since they switched to a newer edition recently and I couldn't find the Student Notebook to go with the old edition, I went ahead and bought the new edition used since I also need to use it again in a few years with child #5.
However, if you can find the 2nd edition Biology, I just learned (too late!) that you can purchase a really inexpensive lapbook journal download from Knowledge Box Central and print it out yourself. This basically functions as your DIY student notebook.
10th Grade History Homeschool Curriculum Choices
In 11th and 12th grades, my kids usually work on history as a dual enrollment course. So, I typically only have 9th and 10th grade history to figure out for my teens. Since dual enrollment tends to be a world history course, we cover American History in 10th grade.
Notgrass History is a user-friendly curriculum that my kids can work through independently. They include loads of primary source documents too, which is unique for a history course.
If you add in their additional English and Bible assignments, including recommended reading, then your student could also earn high school credit for English and Bible in addition to the history credit. We haven't done this yet, as we normally have other resources we like to use for those subjects. But I can see how it would really streamline the year if we did.
Foreign Language Options for High School
My teen loved Visual Latin 1 last year and so he'll continue on with Visual Latin 2 from Compass Classroom.
Check out our review of Visual Latin to get a deeper look into the course.
Biblical Worldview Course
For Bible this year, my 10th grader will be working through BJU Press's Biblical Worldview Course. I'll have a full review when we're done!
Unique Electives for 10th Grade Homeschoolers
Electives should reflect your student's hobbies, passions, interests, or anything that they want to learn about or pursue. So my teen will be continuing with piano lessons and Bible for his main electives (in addition to foreign language).
Want other high school elective ideas? Check out our list!
My teen will also work through a few pages each week in the Building Thinking Skills workbook from The Critical Thinking Co. But we don't count this as a full course, just a helpful extra.
Listen to Episode 218
On episode 218 of the Homeschool with Moxie Podcast, we'll be discussing what we'll be using to homeschool 10th grade along with the main mindset shifts you need for a peaceful and successful high school experience.
Coming soon!
FAQ About Homeschooling 10th Grade
I know that jumping into homeschool high school can be intimidating! But it doesn't have to be. Here are some of the main questions moms of 10th grade homeschool students are asking.
How can I ensure my child receives a well-rounded education at the 10th grade level?
Remember that no one will ever master everything! Or another way to put it is: we all have gaps in our learning. Give them a solid foundation in the core classes (English, math, science, history) and then add electives based on their interests or future goals. Continue to help your student learn to be a responsible and independent learner.
Are there specific state requirements for 10th grade homeschool curriculum that I need to follow?
There may be state requirements for your homeschooler! Definitely check out the state-by-state requirements at HSLDA and be sure to follow them when crafting a 10th grade homeschool plan.
What curriculum options are available for 10th grade, and how do I choose the right one?
There are so many curriculum options for 10th grade! Whether you want a complete online curriculum, traditional textbooks, or an eclectic mix, you can find it.
In order to choose the right option for your student, grab this free download with the 9 questions you need to ask to choose the right curriculum.
Then, head on over to CathyDuffyReviews.com or download our homeschool styles guide to further narrow down your curriculum choices.
Of course, you can also check out our curriculum recommendations and reviews for more ideas.
Can I mix and match curriculum resources from different providers or should I stick to a single program?
Yes, you can absolutely mix and match! In fact, I think you'll come up with a better program that is more customizable and flexible if you mix and match. This eclectic curriculum mix is what we use in K-12.
However, some families find that in the high school years, they like to outsource absolutely everything and prefer a totally online and graded program.
You just need to decide on your budget, your student's learning style, how flexible you want your curriculum to be, and your teen's future goals.
Many different families will choose vastly different options here – and that's okay! Do what works for your teen and your family.
Can I handle teaching the more advanced subjects like chemistry, physics, or advanced mathematics?
You don't have to! You can outsource the teaching to an online or video-based teacher.
How do I create a structured daily schedule and routine for my child's 10th grade homeschooling?
In the high school years, your student should be gaining more independence so that you can literally work yourself out of a job as a homeschooling parent! But many teens still need some structure, routine, and accountability to stay on task.
A great FREE tool for creating a flexible routine and task list is Trello. Learn more about how we've used Trello during the high school years to create flexible schedules that keep everyone on task.
You can even use Trello for high school project management.
What are the college admission requirements for homeschoolers and how can I ensure my child meets them?
College admission requirements for homeschoolers varies widely based on institution. So, definitely look into this early on in the high school years to be sure you know what's expected.
For information about planning for college and being able to do this debt-free, check out my chat with Jeannie Burlowski on episode 146 of the Homeschool with Moxie Podcast.
Final Thoughts on Homeschool Curriculum for 10th Grade
You really can enjoy some successful and meaningful high school years together before your young adult flies the nest. Homeschooling high school is a great time to build an even stronger relationship with your child. And it's the perfect time to set them up for future success, whether that's in the workplace, military, or higher education. Use your 10th grade curriculum and class choices to craft a customized and unique homeschool experience for your student.