We all know that public speaking skills are important for our teens, but until now it's been hard for homeschoolers to find a user-friendly approach to learning these skills. So I'm happy to review Introduction to Public Speaking from Institute for Excellence in Writing (IEW). It's the perfect curriculum for your middle or high schooler to use independently or in a co-op setting.
My posts contain affiliate links.
Disclaimer: I received a copy of this product in exchange for my honest review. I was not required to write a positive review, nor was I compensated in any other way. All opinions I have expressed are my own or those of my family. I am disclosing this in accordance with the FTC Regulations.
The Benefits of Public Speaking Skills for Homeschoolers
Public speaking skills bring so many benefits to homeschooled students! Here are some of the advantages:
Communication Skills: Teens improve their articulation, tone, and body language while they grow in confidence and become effective communicators.
Self-Confidence: When your teen gains experience speaking in front of others, they become more comfortable with public speaking situations. This confidence carries over to many other areas of their lives.
Leadership Skills: Those who are capable public speakers tend to be leaders. When you can engage and inspire an audience, these qualities are linked to leadership development in other group settings and future professional endeavors.
Advocacy: Public speaking equips homeschoolers with the ability to persuade and advocate for their beliefs effectively. They learn to present compelling arguments, support their viewpoints with evidence, and articulate their ideas persuasively. These skills are essential in fields such as politics, law, sales, entrepreneurship, and activism.
Personal Growth: Public speaking challenges homeschoolers to step outside their comfort zones, confront their fears, and develop resilience.
So when you want to give your teens the benefits of public speaking skills, where do you turn for the instruction? We recommend IEW's Introduction to Public Speaking. Here's an inside peek and a deep dive review into this newest course from IEW.
Overview of Introduction to Public Speaking from IEW
My 9th grader was able to start using Introduction to Public Speaking from Institute for Excellence in Writing (IEW) for the last few weeks of the school year. We intend to pick this up and finish the course in the fall of his 10th grade year.
This curriculum is designed to equip your homeschool student with the essential skills and confidence needed to become an effective public speaker.
Introduction to Public Speaking (IPS) is a twelve-week video-based course that is geared towards
middle and high school students. Andrew Pudewa is the instructor and he's engaging yet easy to understand. When I asked my 9th grader why he enjoys Mr. Pudewa as the IPS teacher, my teen mentioned that Mr. Pudewa is funny, yet doesn't talk down to the students.
My high schooler also appreciates that the course is easy to follow with the Student Packet, clear instructions on the screen during video lessons, plus the instructor using the whiteboard while teaching. My son feels like he's part of the class even though he's not there in person.
Here's the complete list of items you'll need for this class:
Forever Streaming or DVD video lessons
Student Packet + Binder
Teacher's Manual
Portable Walls for the Public Speaker
All of these items are included in the $99 IPS class, but you can also buy additional Student Packets, Teacher's Manuals, and Portable Walls separately if needed.
Enter to Win IPS
Want a chance to WIN a free copy of IPS ($99 value)? Check out the generous giveaway from IEW. This drawing will end on 6/27/2023. And you can even try 2 weeks of speech lessons for FREE!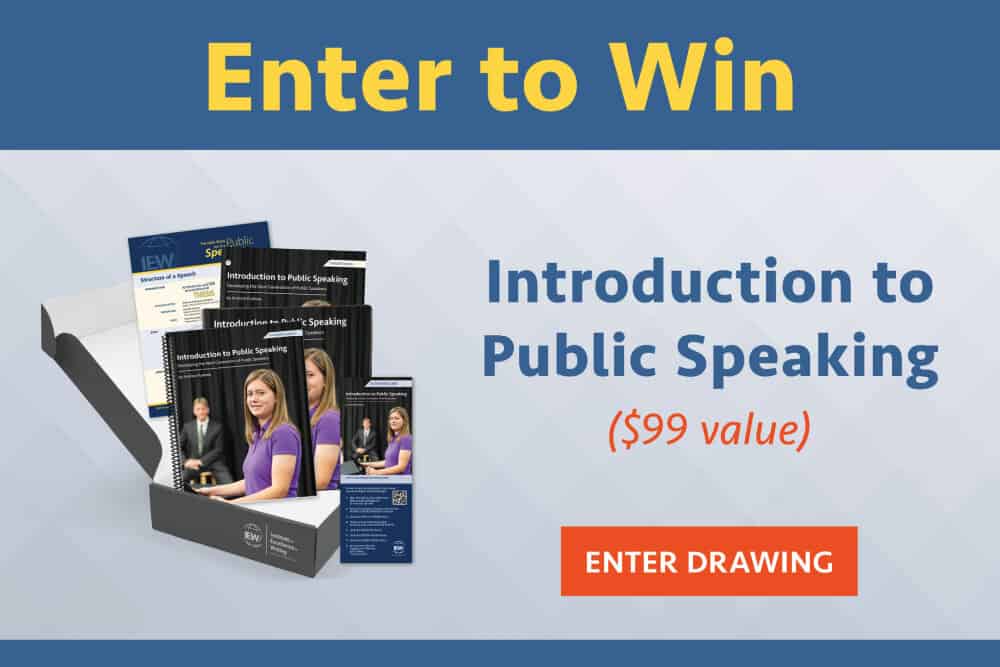 IPS Curriculum Content
In this 12-week course, your teen will learn the foundational skills of public speaking. Your students will gain confidence in public speaking as they learn memory and delivery techniques with five speeches: self-introductory, narrative, expository, persuasive, and impromptu.
IPS provides students with a structured approach to public speaking that helps them focus on organization, logical reasoning, and engaging delivery.
Here is the weekly scope and sequence for IPS.
deliver speech from a KWO, memory and delivery techniques
speaker evaluation techniques, structure of a basic speech
the body of a speech
the introduction and conclusion of a speech
prepare narrative speech
two primary speech goals
prepare expository speech
three modes of persuasion
prepare persuasive speech
extensive memory techniques
prepare impromptu speech
various speech opportunities
Teaching Approach of IPS
Each week begins with a video that is about one hour long. Andrew Pudewa teaches these classes to a small group of homeschooled students in the videos. The video has a professional production quality and my son really enjoyed Mr. Pudewa's teaching style. It was challenging yet engaging, and he has a comfortable teaching style that keeps teens interested with just the right amount of humor.
While my son watched the lessons, he used the Student Packet to take notes and follow along.
After watching the video, your teen will have multiple tasks to fill the week that apply the concepts from the lesson.
IPS is easy to follow because your student has a weekly overview page included in the Student Packet + Binder. On this one-page overview, you'll find assignments and tasks divided out over four days.
Your teen can do most of the assignments independently, but you or someone else will need to be able to evaluate recitations and speeches. However, IEW makes this very straightforward for you with an easy-to-follow critique form.
As my 9th grader began this course, it occurred to both of us that he hadn't participated in a lecture-style class before. As many homeschoolers experience, his education has consisted of mom teaching a group of siblings on the couch or independent learning from a textbook. But now having to listen to a lesson, take notes, and engage with class content in this way, it's a great new perspective for him and requires some new attention and organization skills.
Introduction to Public Speaking IEW Curriculum Resources
The main component of the class involves the video lessons, which you can access via Forever Streaming or DVD.
Next, the Student Packet + Binder gives you everything you need to be organized and successful with this class. The Student Packet includes class notes, critique forms, pieces for memorization, and speech templates.
The Student Packet is already three-hole-punched and ready for assembly in the Student Binder. Your teen is given regular instructions on how to organize notes, speeches, critiques, and more in the binder. This Student Binder along with the weekly overview sheet makes this course an open and go style curriculum that your teen can maneuver mostly on his own.
The Teacher's Manual is a spiral softcover book that shows you all the pages in the Student Packet along with relevant teaching notes, suggestions, and video summaries.
Finally, the Portable Walls for the Public Speaker is a convenient reference guide to all the major teaching points in this course.
Engagement and Interactivity
While we only had time to dive into a few weeks of this course so far, my son noted that Mr. Pudewa is an engaging and competent instructor. He guides students through the process of creating and delivering speeches.
He also helps students learn how to critique other students in the class. So while your teen is watching from home, he is still involved in listening to other students present their speeches. And your teen will learn how to give a thoughtful critique.
These speech evaluations address four basic areas: poise, locution, contact, and content. So while learning how to evaluate others, your teen is also learning how to self-evaluate. In fact, Mr. Pudewa encourages much thoughtful practice before presenting a recitation or speech.
Adaptability and Flexibility for Homeschoolers
This is a 12-week course, so you'll be able to easily fit it in one semester of your homeschool year. Each week is divided into four days of assignments, which makes this curriculum a flexible choice for families who need to fit in other commitments during the week.
The way we adapted this course was to work on the lessons for about one hour each day. Sometimes this would allow my teen to complete more than one day's worth of assignments. But the weekly lesson overview made it easy to keep track of what the next step is to complete each day's tasks.
Because this course is made for homeschool students in middle school or high school, you could easily teach multiple siblings together. I think this would make the course even more enjoyable, as you would have a built-in audience in your home! IPS can be adapted to different grade levels and abilities, making this ideal for homeschool families.
Progression and Skill Development
As a parent, I appreciate that Andrew Pudewa does not just lecture about how to create a speech, but he models it himself, sometimes with funny examples of what not to do. He also takes time to explain how to critique other students, thereby teaching my teen how to self-evaluate.
Your teen will learn how to prepare and present speeches, starting with simple recitation which doesn't require them to come up with the content, to a more extensive ten-minute persuasive speech by the end of the course.
Support and Guidance from IEW
The speech critique forms make it easy to give your student a fair and objective evaluation. It also helps your students know what to work on for their next speech.
If you want to grow in your confidence and ability as a homeschool parent, grab a spot on IEW's email list, where you'll be notified of the various free workshops that Andrew Pudewa offers during the year. They also have a weekly podcast, called The Arts of Language, which is very helpful as well! I've linked to my favorite IEW podcast episodes so you can check them out.
Be sure to visit IEW's official website or contact them directly to obtain the most up-to-date information on their Introduction to Public Speaking curriculum, including pricing and specific curriculum components.
Conclusion: IEW Introduction to Public Speaking Review
Overall, homeschoolers who cultivate public speaking skills benefit from improved communication abilities, increased self-confidence, enhanced critical thinking, leadership development, persuasive capabilities, professional growth, networking opportunities, and personal growth. These advantages contribute to their holistic development and prepare them for success in various aspects of life.
And with IEW's Introduction to Public Speaking, you can outsource the teaching and be sure that your teen is getting a solid foundation with this curriculum. Be sure to take advantage of 2 weeks of speech lessons for FREE!
Head on over to the Homeschool with Moxie page at IEW to enjoy some free gifts, see the other IEW resources we use and love in our homeschool (like Fix It! Grammar), and learn more about Introduction to Public Speaking.