One tradition that our family has enjoyed is our Jesus Tree. Some years it's been simple, with tree branches in a vase by the window. Other years, it's turned more elaborate. However you choose to do it, creating a Jesus Tree with your children can help make the season of Advent especially worshipful and focused.
You can print out free Jesus tree ornaments in this post!
This post contains affiliate links for your convenience. I will receive a commission if you purchase from these links. Thank you.
Focusing on the Upper Story
What a wonderful time of the year to focus our hearts on God's story — more specifically the upper story. We live in the lower story and easily get distracted by the tinsel and bright lights.
But since Christ came that first Christmas, we know God will keep His promises and Christ will come again. And during this season of Advent, of celebrating His birth, we look with anticipation to Christmas Future.
A helpful practice for the whole family during this special season is to focus on the significance of the names of Jesus.
Did you know that in the Old and New Testaments, it is possible to find over 100 names and titles for Christ?
Using a Jesus Tree can be a helpful visual for everyone in the family.
Creating Ornaments for a Jesus Tree
This is an easy DIY project that can be started at any time leading up to Christmas day. No need to run to the store, just use what you have on hand. Let the kids help.
First, gather branches from the yard and put them in a recycled jar.
Find some extra Christmas ornaments or make your own from paper.
Add one name and the Scripture reference to each ornament. If you learn about one each day until Christmas, you will need 24. You could do more or less, and don't worry about starting too late! Just do something.
How it Works
Each day leading up to Christmas, pick one Name of Jesus ornament to put on the Jesus tree. Read the name and the passage of Scripture.
Ask the question, "Why is Jesus called this?"
What a meaningful way to talk about the Lord for a whole month and marvel at what His names reveal about His character and why He came.
Keep things simple!
Decide where you will hang your ornaments. It could be on garland on your stairway, around your window or mantle.
Or maybe all you need are some tree branches from the yard that find a home in a vase or bucket.
You could display them prominently on the main Christmas tree in your home.
It doesn't really matter, just do it.
Free Names of Jesus Ornaments
I've created a download for you with 36 names of Jesus, ready to be printed out and made into ornaments for your Jesus tree! Grab them below.
You can print these ornaments onto colorful card stock, then cut the circles out (or use a 2″ circle punch) and attach to store-bought ornaments, or make your own.
Here's another fun idea:
Instead of using a tree or branches, you could collect 24 mismatched mittens throughout the year and hang them as a garland. Slip one of the names of Jesus into each mitten, and each day it will be a fun surprise to retrieve the next name.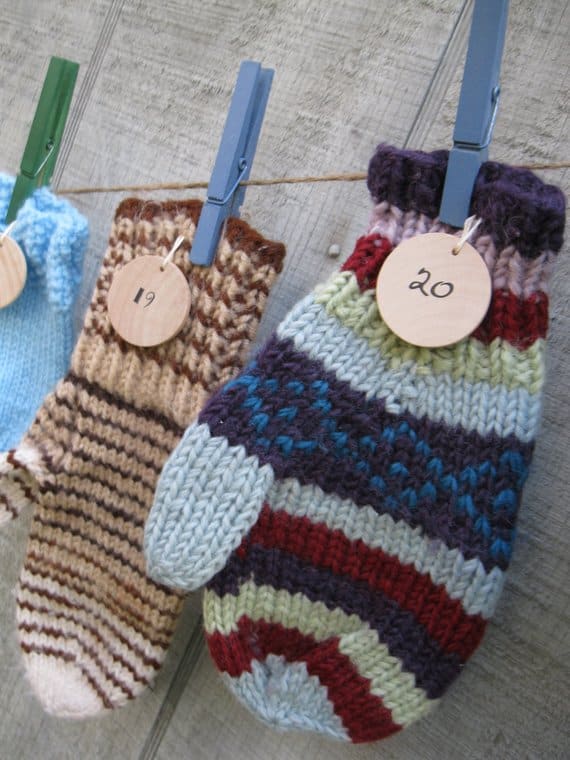 I hope you are inspired to start this advent celebration with your family this year.
If you are looking for a resource to engage your older kids in the study of the names of Jesus, then you'll love our Names of Jesus Advent Cards and the Advent Bundle – Jesus: Prophecy Fulfilled.
Use the coupon code HOLIDAY2021 to save 30% on any of our products, including our Christmas resources and inductive Bible studies!