These online courses for teens can be used for credit on the high school homeschool transcript.
Do you have entrepreneurial teens?
Or maybe you're looking for innovative electives for your homeschool high school students?
We've got you covered! Click on the graphic below to learn more about each course.
Selling on Etsy Masterclass
Selling on Etsy is a great option for your teens who create handmade items, but it can be more than that! Your digital creators can sell their products, plus vintage sellers are welcome too.
But don't let your teens flounder with trying to set up a successful Etsy shop. I've been selling on the platform since 2012 and will give your teens the plan they need in the Selling on Etsy Masterclass for Teens.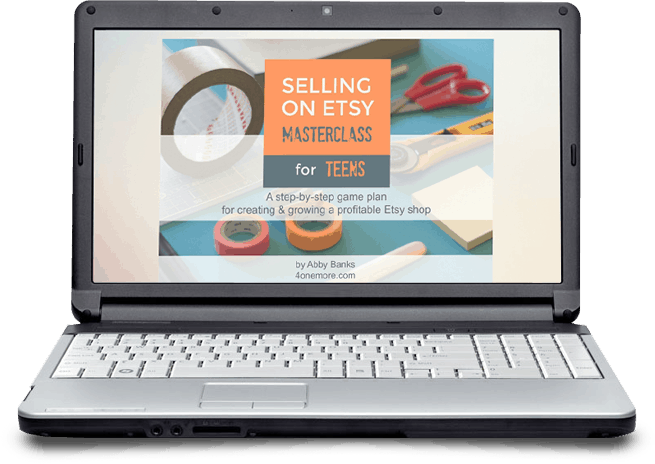 What You Can Sell on Etsy
Here are a few examples from each category:
Handmade – crochet toys, painted signs, stamped greeting cards, jewelry
Digital – yearly planner, digital art, digital invitations, digital stickers, digital paper
Vintage – anything made before the year 2000 counts as "vintage" on Etsy and you can sell as-is, like brass candlesticks, frames, home decor, and more!
The Selling on Etsy Masterclass for Teens is a comprehensive course that will take your teen through a step-by-step plan for opening their shop, getting listings set up to be found in search, and then making sales! Your teen will learn about business finances, along with customer service, organization, and shipping. We'll cover it all.
Testimonials
But, the course is user-friendly and easy to navigate. We have lots of happy graduates! Here's what some of them had to say:
Last summer I joined Abby's Selling on Etsy Masterclass for Teens. I was 12 at the time, and only had a couple sales. Abby was quick to answer my questions. She also gave me personalized advice to improve my Etsy shop. After investing time to experiment with what worked and what didn't, I learned a lot about business and selling on Etsy. I've been able to reach over 100 sales! It's so helpful for a new Etsy seller to have a step by step action plan to start their shop.

Anna from AnnaMadeDesignCo
My daughter took the Selling on Etsy Masterclass for teens and really enjoyed it. It was packed full of information that helped her launch her own Etsy store to sell her sewing projects and other craft related items. Abby is a fantastic teacher and includes important information about customer service that is beneficial for teens that are interested in e-commerce. The course covers everything you need to know from the planning stages to completing your first sale. I highly recommend the course if you have a crafty and/or entrepreneurial teen.

Courtney of www.gracegrowedify.com
Yes! Purchase the Selling on Etsy Masterclass for Teens
Etsy Quickstart Guide
If your teens would like a scaled-back version of the Etsy Masterclass, then the Etsy Quickstart Guide is what you're looking for. This ebook is perfect for homeschool moms as well who want to find a way to make a side income while homeschooling.
Here's what one Etsy shop owner had to say about the Etsy Quickstart Guide:
I found Abby's Etsy Quickstart Guide to be just what she promised, a friend sitting down and helping me set up my shop step by step. Her tips are very helpful, especially for writing hit generating titles. I highly recommend it!

Rose, Prairiekeet.etsy.com
Get access to the Etsy Quickstart Guide!
For a completely high-level overview, you can download the Etsy Quickstart Checklist for FREE!
Podcast Launch
The Podcast Launch for Teens teaches skills that you would find in a normal speech elective and then some! It's a great option for your teens who want to mesh some required credits along with a new medium.
Your teen doesn't even need any fancy equipment to start a podcast! As long as you have a computer or device to connect to the internet, you'll be fine.
The Podcast Launch for Teens will teach your kids in a step-by-step fashion, giving them plenty of time and advice for following through and applying what they learn. The goal of the course is to have your teens launch the first season of their podcast.
Check out the guest post I wrote for Homeschool Giveaways about using the Podcast Launch for Teens as a speech elective. In that post, I deep dive into these topics:
What content is in a high school speech elective?
Skills that are learned in podcasting
How to Use Podcasting as a Summer Project
Counting a Podcast as an Elective Credit
Check out these additional resources:
Join the Podcast Launch for Teens
eBay Reseller
Your teens who love to buy low and sell high will love the eBay Reseller Mini Course. This is essentially an ebook with tons of examples and pictures to show exactly how to research items on eBay, create stellar listings, take photos, and sell and ship the products.
But even before we dive into that, this course will help your teens declutter their room first! Say what?! This is a fabulous course if you want your teens to have a bit of motivation to get his own stuff decluttered first. Then, they resell the items with value, make some profit, and invest it back into the reselling business.
Yes! My teens need the eBay Reseller Mini Course!
Using Online Courses in Your Homeschool High School
Of course, teaching entrepreneurship or other high level content to your teens might be out of the question for you personally. You just might not have the time. Or, you might not feel knowledgeable in the subject.
The great thing about homeschooling is that you don't have to teach everything! This is especially true at the high school level.
Take advantage of all the online courses you could use for your homeschooled teen. The best courses will be easy to follow, clear in the requirements, and include a way to give a grade on the transcript.
The best way to give a final grade for an entrepreneurial-based course like the ones above is to set a clear goal or final project, then give an A based on the completion of that project. High school credits typically require 120-180 hours of work. So, based on the time invested and the application of knowledge in the culmination of a final project, your teen passes the course with a well-earned A. This type of course shows that he can actually use what he has learned, which is the highest form of learning!
Why is Teen Entrepreneurship a Good Pursuit?
You may not realize that even high-tech businesses like Google have said that they are not merely looking for workers who possess the STEM or coding skills required in the tech industry. Instead, they actually want their employees to have skills that are mainly seen in entrepreneurship – things like problem solving, critical thinking, innovation, and interpersonal skills.
In addition, even your learning-challenged students, and especially those with dyslexia, will thrive in an entrepreneurial journey. This is because dyslexics have the super power of being able to see complex systems from above and how they all fit together. They are master problem solvers.
Every teen would benefit from the challenges and growth associated with entrepreneurship, even if they don't want to pursue it in their future. Even one elective in this field would help your teens. Plus, it looks great on the transcript!
One more reason why entrepreneurship is a good idea for our high school teens is that they can create streams of income with their new businesses! This is a win-win situation as they can make money, learn new skills, practice their craft, and count it for credit on the transcript.
Challenges & Solutions to Teen Entrepreneurship << listen to episode 100 of the Homeschool with Moxie Podcast!
Counting Electives on the Transcript
Creating a transcript for your homeschooled student doesn't need to be complicated. The basic formula is to count hours and figure out a way to assign a grade.
If a course is based on taking quizzes and tests or writing papers, then that is how you determine the grade. As already mentioned, entrepreneurial courses tend to work well by defining a final project up front and using the course to complete that project.
So, for the Selling on Etsy Masterclass for Teens, the final project is an open Etsy shop with at least 10 well-researched and completed listings. A sale or two would be nice, but it isn't essential! The customers will eventually come.
For the Podcast Launch for Teens, the final project is a LIVE Season 1 that is available to the world! The course will get you to that goal.