Are you a homeschool mom looking for ideas to expand your family income?  You're not alone!  Statistics show that 2/3 of homeschool families live on one income.  But even if you can't go out and get a full-time job, you can still do some amazing work on the side from home while homeschooling your kids!  And it can be a rewarding endeavour to do work you love while being home with your kids.  I asked some other homeschool bloggers for their best ideas, and this is what they said.  Here are over a dozen ideas for the work-from-home homeschool mom.
This post contains affiliate links for your convenience. I will receive a commission if you purchase from these links.  Thank you.
Cake Pops & Hamsters
What do cake pops and hamsters have in common?  Well, here is what Shannon from www.whimsyandpurpose.com shared with me about making money from home.
Selling baked goods, like cookies, cakes, pies and cake pops are especially popular around holidays.

I also have friends that make money by pet sitting – dogs, cats, hamsters, turtles, even snakes and reptiles. Some bring the pet into their own homes and sometimes go to the person's home. They feed, water, and play with the animal if that's wanted.
Realtor
Business Minded Moms, formerly Homeschool Hopscotch, has a Homeschool Side Hustles series, like this interview with a work from home realtor.  You could get the training necessary to be a realtor and work your business around your family's schedule.
Teaching Online with VIPKID
Jennifer from Happy Teacher Mama teaches for VIPKid and has a whole section of her blog dedicated to the side hustle.  VIPKid hires people to teach English to kids in China.  It was recognized  as one of the Best Places to Work in 2019 by Glassdoor, Inc.   I will admit that this side hustle has intrigued me for a while, but I've never taken the plunge.  The early mornings required to teach scare me!
Become a VA
If you're entrepreneurial with office, marketing, or online skills, you could start a virtual assistant business after taking the Virtual Assistants Making Money course.
Etsy
If you've been following me for a while, you'll know that I've had a profitable Etsy shop since 2012!  If you're crafty and like to create handmade items or digital products, then selling on Etsy might be a great side hustle for you.  It's also a great side hustle for entrepreneurial teens!  Make sure you join my mailing list so you'll be the first to know when my new course, Selling on Etsy Masterclass for Teens, goes live!  Even though I made it for homeschooled teens to earn elective credit on their transcript, moms can take it too and open a thriving Etsy business!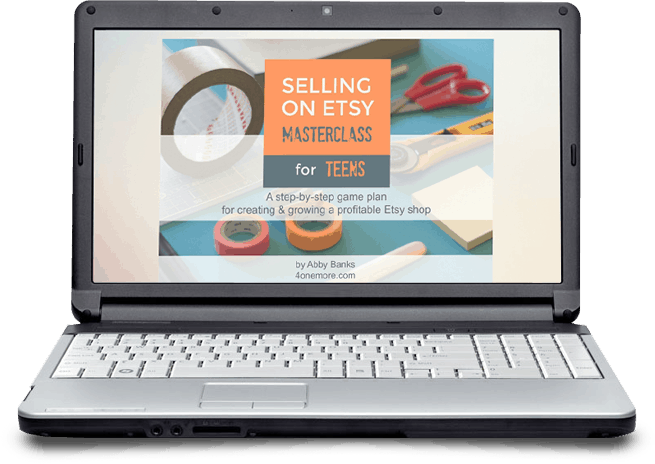 Check out my posts about selling on Etsy here:
Ebay
Selling on eBay is not identical to selling on Etsy. eBay sellers are more resellers, not necessarily creatives and crafters.  I sell on eBay regularly as well, mainly selling off our own stuff and yard sale flips.  It's a fun way to bring in extra money without spending a ton of time if you don't want to.  It also gives you an excuse to declutter or go yard sale-ing!  My preteens and teens make a nice little income from reselling on eBay as well.  Would you or your teens like to learn about this platform?  Email me at abby@4onemore.com and if I hear from enough of you, I just might have to make a mini training course about eBay!
What are your talents?
Look for gifts that you have that other people aren't naturally good at.  What do people ask for your help with?
There are many service based business options available to you depending on what you enjoy and how you're gifted.
Are you musical?  You could teach private music lessons (I do this too!)  This is a terrific side hustle because the hourly rate is great and you can fit students in around your life.
Do you enjoy cleaning?  I cannot relate to this one at all because I loathe cleaning (although, I love for things to be clean – I just don't like to do it!)  So, you might be the type of person that I would be willing to pay to come clean my house weekly.  See, it might come naturally to you, but not to me.  So, I would be willing to thank you with money for doing a job that I don't do well and don't enjoy.
If you can balance homeschooling and childcare, you could make a nice income by inviting extra children into your home during the day.  One friend said she watches the neighbor children when they get off the bus each day until their parents come home from work.  Your kids might think it's a big play date and you could enjoy some extra income from after-school care!
If you're gifted with words and grammar knowledge, maybe you could offer your editing skills to online entrepreneurs and businesses.
I also have a friend who's super artistic.  She plans monthly or semi-monthly art lessons at her house for other homeschool children and charges for them.  She teaches the kids for several hours and ties in literature with art projects and seasonal crafts.  This takes the pressure off other homeschool moms to cover art, but would give you income for teaching their kids and your kids!
Use your homeschool to make money
If you're creating printables or other educational materials for your own kids, why not offer them for sale on a site like Teachers Pay Teachers.  
Other Resources
Happy Homeschooling,