If you're just starting out with homeschooling, you may be wondering what kind of supplies you'll need. Here's a run-down on some of the extras you may want to purchase, and also a reality check of what it really takes. Plus, you can grab a FREE printable homeschool supply list in this post.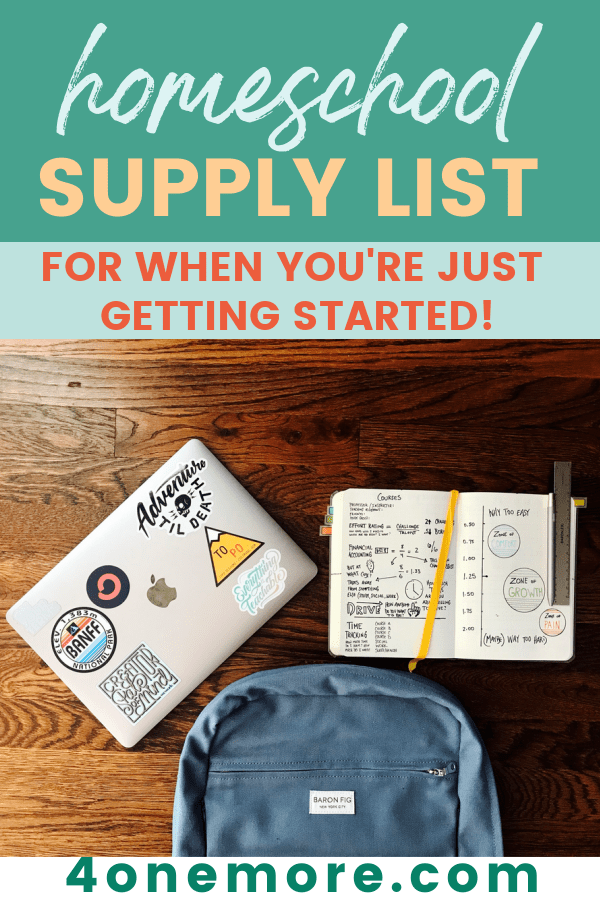 This post contains affiliate links for your convenience. I will receive a commission if you purchase from these links. Thank you.
You may be surprised to learn that the supply list for homeschooling is not necessarily extensive. You really can have a simple approach to learning that doesn't require huge investments of money or clutter.
Of course, the curriculum you choose will make a big impact on the supplies you need. Some homeschooling methods are big with hands-on, or manipulative use, or you may need five bookshelves to contain all the read-alouds!
That's not a negative thing – just something to keep in mind while you're researching cost and supply needs.
When you're getting ready for a new homeschool year, you'll work through these four steps:
Do you feel overwhelmed trying to figure it all out by yourself? Join the Homeschool Mom Collective and gain peace and confidence in your homeschooling!
The Dilemma of School Supplies
Here's the burning question: Do your kids need a ton of new and plentiful school supplies each September to have a successful homeschool year?
Yes and no.
First, the answer is no. Of course, you probably have most of the supplies you'll need to homeschool already living in your house. But you might just need to corral them to a more convenient location so that you don't spend precious time locating the stuff you need when you're in the middle of schooling.
However, remember to keep morale high in your homeschool. If you have kids that get excited about new markers and scissors and a few new folders, then by all means, buy some back to homeschool goodies! One year I found personalized pencils on Etsy for my boys. They were the most expensive pencils I've ever bought, but they were a fun touch to our first day of school.
Here's another point to make: Don't get all clutter-y with your homeschool supplies. Remember step #1 – declutter? Now that you've purged some stuff from your space, don't fill it all back in again.
Check Your Stage
Take a look at the stage of homeschooling that you're in. What are the ages of your kids?
A kindergartener will have different supply needs than a 10th grader. These are my bookends this year.
My kindergartener got a new box of crayons, a pair of scissors, and some dry erase markers for practicing letters on the white board.
My 10th grader got a scientific calculator, more college ruled notebook paper, some new 3-ring binders and spiral notebooks.
The Simplest Homeschool Supply List
Pencils
We used to buy the traditional #2 pencils. In fact, we still have about 439 of them in our house. Then we bought an electric pencil sharpener one year. It didn't work that great. Then I bought a vintage pencil sharpener and mounted it on our bookshelf. It made a lot of mess. Everyone got weary of sharpening pencils constantly.
So we've started using mechanical pencils. They usually come in packs with four or five different colors, so each kid can keep track of his own.
If your kids are younger, go with the traditional pencils. But if your kids are upper elementary or middle to high school, then I say go for precision writing with always-sharp mechanical pencils.
Post-It Bookmarks
When we ditched the formal reading curriculum in K-8 and opted for letting the kids love to read again, we realized that we needed lots of bookmarks! Having sticky bookmarks was ideal, because they usually didn't fall out and get lost like the traditional ones.
If you follow my advice and use open and go curriculum, you will also need bookmarks. Open and go curriculum simply refers to curriculum that lets you work on the next thing each day, stick a bookmark in your spot and pick up where you left off. This is a less complicated approach than curriculum that requires you to read a teacher's manual and do extensive planning.
So, because of these two characteristics of how we like to homeschool – lots of free reading and open & go curriculum – we need bookmarks. Post-It brand is the stickiest, but I'll also make do with the ones at the dollar store in a pinch.
Nice Pens for Me
No, this isn't required, but homeschool moms need some fun school supplies too! Here's my favorite pens:
Spiral Notebooks
Since we don't use many worksheets in our homeschool, we rely on single subject spiral notebooks for most of our written work.
Here's what we use them for:
math equations
science notebooks >> draw a diagram of the lesson, write an outline, list out main points, write a summary paragraph
history notebooks >> keep a timeline, write a summary of lesson, list out main points of topic, draw a map from the lesson
Bible notebooks >> my high schooler read Concise Theology last year and wrote summaries and interacted with the topic in a spiral notebook
spelling practice >> we use All About Spelling, so the kids use spiral notebooks to informally practice their words and take spelling tests (and we do a lot of our spelling in a tactile way with this huge magnetic oil pan from Walmart and our All About Spelling letter tiles!)
Loose Leaf Paper in 3-Ring Binders
My middle and high schoolers use 3-ring binders with loose leaf paper for subjects with multiple components, like student-produced chapter outlines, essays, quizzes, tests, and paper. We have one subject per binder.
In our Writing With Skill binders, they have multiple sections based on the types of writing they do in this curriculum: Topoi, Copia, Narrations, Outlines, Reference.
In their high school social studies binder, they have sections for outlining the textbook, sections for quizzes and tests, and any additional work they do. This makes it easier to keep track of grades, which I only do in 9-12th. I use a one sheet page like THIS and keep it in the front of the binder.
My high schoolers have 3-ring binders for:
math
social studies
science
writing
Handwriting Paper for K-3
When your kids are learning how to form their letters correctly, it's a good idea to buy some traditional school writing paper.
Elementary Homeschool Supply List
Let's drill down into more specific supply lists for each grade level. So, what is really needed for elementary homeschool supplies? Not as much as you may think.
Here's a basic list:
Pencil box
Pencils
Crayons
Markers
Scissors
Glue stick
Handwriting paper
Construction paper
Dry erase marker
Art supplies
Binders
Composition Notebooks
Clear Page Protectors
Ruler
Globe or map
Consider these other related posts:
High School Homeschool Supply List
When your kids reach middle school and high school, the supply list shrinks, although a few items could be more pricey. They almost definitely need access to a computer, for research, online classes, and typing up papers.
Here's a basic high school supply list:
Binders
Clear Page Protectors
Assignment Book/Planner
Computer
Notebook Paper
Graphing Paper
Notecards
Dividers
Scientific Calculator
Pencils/Pens
Check out these related posts:
Organizing Your Homeschool Supplies – HWM 169
Our guest on episode 72 of the Homeschool with Moxie Podcast was Lisa Woodruff, founder and CEO of Organized 365. Lisa has been a homeschool mom and she was also a professional organizer before she started Organize 365.
She shared a really practical tip on episode 72, so I wanted to bring it back here for episode 169 to give you a strategy to put in place for the coming homeschool year. Listen in for why & how to create a Homeschool Supply Store in your home!
Homeschool Mom Supply List
Believe it or not, you do not need much for yourself! Even that laminator that everyone and their mom talks about is not essential. I've homeschooled five kids in the last 12 years, and we've never owned a laminator. Now, if it makes you happy to buy one – go for it!
So what is really necessary for the homeschool mom? Of course, you'll want a computer and printer. Other than that, you just need to clarify your paperwork and planning style and purchase resources for that.
I have binders for each of the kids with their school-related paperwork, transcripts, correspondence with the school district, and so on. Keep portfolios for each of the kids each year. Have a bullet journal or planner to get your year plan and long-range goals in writing.
And finally, get it all on Trello – you won't be disappointed!
Here's a short list to consider for yourself:
Check out these related posts: