Embracing the beauty and magic of the fall season, there's no better time to infuse your homeschooling journey with engaging fall educational activities that celebrate the changing leaves, crisp air, and all things autumn.
Here are 10 hands-on fall educational activities to use in your homeschool this season.
My posts contain affiliate links.
Whether you're seeking creative ways to blend learning and play or looking to make the most of this vibrant season, we've gathered a collection of ten hands-on fall educational activities tailor-made for homeschool families.
From artistic endeavors with colorful leaves to scientific explorations of pumpkins, these enriching experiences will spark curiosity, encourage creativity, and foster a deeper appreciation for nature's magnificent transformation during this harvest season.
Learning About Patterns
Your youngest learners need to learn foundational skills in the early years. One of these skills is how to recognize patterns. This will help them later on in many subjects, including phonics, math, and music.
The Montessori Inspired Fall Bundle provides beautiful seasonal downloads for your little learners to practice these skills. With pumpkins, apples, acorns, mushrooms, and more, your child can practice matching shapes, creating patterns, and counting.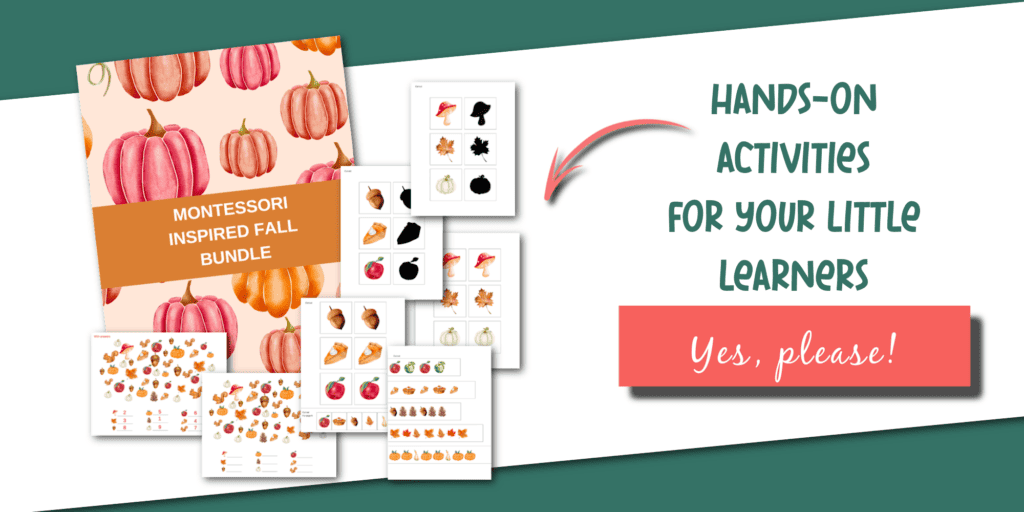 Fall-themed Math Games
Using math manipulatives helps many kids be able to understand math better because it takes the theoretical and makes it concrete – they're able to work with math with their hands!
Incorporate fall elements into math lessons, such as using acorns or leaves as counters or creating pumpkin-themed word problems.
Here are a few ideas to get you started:
Pumpkin Patch Counting: Use miniature pumpkins as manipulatives for counting and basic arithmetic exercises. You can create addition, subtraction, and multiplication problems using the pumpkins.
Apple Picking Fractions: Incorporate apple-themed visuals to teach fractions. Cut apples into pieces and demonstrate how fractions represent parts of a whole.
Leaf Measurement: Collect different-sized leaves during nature walks and use them for measurement activities. Compare and order the leaves by size, and use rulers to measure their lengths.
Acorn Addition/Subtraction: Draw or print acorns with numbers on them, then use them for addition and subtraction problems. For younger learners, you can use these visual aids to introduce basic arithmetic concepts.
Fall Fact Families: Create fact family trees using fall-related images like leaves, apples, or pumpkins. Fact families help reinforce the relationships between addition and subtraction or multiplication and division.
Autumn Pattern Play: Use fall-themed objects like leaves, pinecones, or apples to create and extend patterns. Patterns help develop critical thinking skills in math.
Harvest Time Clocks: Draw or print clocks with different times on them, and let your kids practice telling the time using these seasonal clocks.
Corn Maze Geometry: Design a corn maze on paper, and incorporate geometric shapes like squares, rectangles, triangles, and circles for kids to navigate and identify.
Apple Cider Making
Kids can experience the joy of picking apples directly from the trees on a visit to an apple orchard. They can learn about different apple varieties and the apple harvesting process.
Some apple orchards also offer activities such as apple cider pressing demonstrations, apple tastings, and opportunities to try handcrafted apple treats like apple pie or caramel apples. Learn how to make apple cider together as a fun cooking and science activity.
Fall Leaf Sorting
Collect a variety of fall leaves in different colors, shapes, and sizes. Spread them out on a table or the ground. Have your kids sort the leaves into different categories based on their attributes.
For example, they can sort them by color, size, or the type of tree they come from. This activity helps with color recognition, pattern recognition, and critical thinking skills. It's a fun and hands-on way for kids to explore the diversity of fall leaves and engage with the season's natural beauty.
Harvest Sensory Bin
Assemble a sensory bin filled with fall-related items like dried corn, cinnamon sticks, small pumpkins, and pinecones for tactile exploration.
A sensory bin is a container filled with a variety of materials that provide sensory exploration and play opportunities for children. It is a hands-on and interactive way to engage children's senses, including touch, sight, sound, and sometimes even smell. Sensory bins help to promote sensory development, creativity, and learning.
If you're wondering what to include in your sensory bins, here are some ideas to get you started:
Kinetic sand or playdough: To promote fine motor skills and creativity.
Water or colored water: For a wet and tactile experience.
Rice, beans, or pasta: For texture exploration and scooping.
Natural elements like leaves, pinecones, and acorns: To connect with nature and explore the outdoors.
Pom-poms, cotton balls, or feathers: To explore different textures and materials.
Small toys or figurines: To enhance imaginative play and storytelling.
Sensory bins can be adapted to match specific themes, seasons, or educational concepts and make a great hands-on fall educational activity.
Fall Nature Journaling
Encourage your children to observe and sketch the changes they see in nature during the fall season in a dedicated nature journal.
A fall nature journal is a wonderful way to document and explore the beauty of the season. Here are some elements you can include in a fall nature journal:
Observations: Record your observations of the changing leaves, colors, and patterns you notice during fall.
Leaf rubbings: Collect different leaves, place them under your journal page, and use a crayon or pencil to create leaf rubbings.
Sketches and drawings: Draw the fall foliage, trees, wildlife, and other interesting natural elements you encounter.
Pressed leaves and flowers: Collect and press some colorful leaves and flowers between the pages of your journal to preserve them.
Fall-inspired poetry or prose: Write poems or short paragraphs inspired by the sights and feelings of autumn.
Weather reflections: Describe the weather conditions, temperature, and how the changing weather affects the environment.
Seasonal changes: Document any noticeable changes in animal behavior, migration, or plant life.
Nature walk reflections: Write about your experiences during nature walks, including any unique encounters or discoveries.
Photos or drawings of fall landscapes: Include photographs or drawings of the fall scenery you find most captivating.
Seasonal recipes: Add some fall-inspired recipes using ingredients like apples, pumpkins, or spices.
Seasonal traditions and celebrations: Write about fall holidays and how your family celebrates them.
Fall-themed crafts: Include instructions and photos of fall crafts you create, such as leaf garlands or pinecone bird feeders.
Nature journaling is just one of the ways homeschool families can use notebooking as an educational tool.
Pumpkin Science
Explore the lifecycle of a pumpkin by planting pumpkin seeds, observing growth, and carving jack-o'-lanterns.
Take a trip to a local pumpkin patch, where kids can explore rows of pumpkins in various shapes and sizes. They can enjoy picking their own pumpkins, which can later be used for carving or decorating. Many pumpkin patches also offer additional activities like hayrides, corn mazes, petting zoos, and fall-themed games, making it an enjoyable and memorable outing for kids.
Nature Scavenger Hunt
A Nature Scavenger Hunt is one of the best no-prep fall educational activities on this list! Create a list of fall-themed items to find during a nature walk, such as acorns, colorful leaves, pinecones, and migrating birds.
Here are some items to add to your list:
Colorful fall leaves (different colors and shapes)
Acorns or other tree nuts
Pinecones in various sizes
Fallen twigs or branches
Moss or lichen on rocks or trees
A spiderweb
A bird's nest or feathers
A red or orange berry
A mushroom or toadstool
A caterpillar or insect
A squirrel or other small woodland creature
A patch of wildflowers
A smooth, flat stone
A puddle or small stream
A leaf with interesting patterns or textures
A tree with leaves still on it and one with leaves mostly fallen off
A small animal footprint or track
A bird or other animal in flight
A leaf with evidence of insect feeding (e.g., holes or chewed edges)
A sound of a rustling animal or falling leaves
Grab a free printable of this fall-themed scavenger hunt and other fall educational activities in our resource library!
Leaf Printing Art
Another fun fall educational activity is creating leaf print art. All you need to do is collect different fall leaves, dip them in paint, and press them onto paper to create beautiful leaf prints.
To get started, gather various types of leaves with distinct shapes and textures. Apply a thin layer of paint on the underside of a leaf, ensuring it is evenly coated. Place the painted side down onto a sheet of paper and press gently to transfer the leaf's pattern onto the paper. Repeat the process with different leaves and colors to create a stunning collection of leaf prints.
Want more creative art ideas? Visit our friends at Masterpiece Society to learn more – and get access to their free art resource library! We've personally enjoyed their Watercolor Whimsies Autumn Edition lessons.
Fall Storytelling
Read fall-themed books together, and then encourage your children to create their own autumn stories or poems to foster creativity.
Here are three picture books that capture the spirit of fall:
"Leaf Man" by Lois Ehlert – This beautifully illustrated book takes children on a journey with a leaf man made up of colorful leaves. As the wind blows, Leaf Man travels over fields and forests, showcasing the different shapes and colors of autumn leaves.
"Fletcher and the Falling Leaves" by Julia Rawlinson, illustrated by Tiphanie Beeke – Fletcher, a little fox, becomes concerned when he sees the leaves falling from the trees. He tries to help by reattaching them, thinking the tree is sick. This heartwarming story teaches children about the natural cycle of seasons.
"We're Going on a Leaf Hunt" by Steve Metzger, illustrated by Miki Sakamoto – Inspired by the classic "We're Going on a Bear Hunt," this book takes readers on an exciting leaf hunt adventure. Three friends set out to find different types of leaves and encounter various obstacles along the way.
You could also use fall mad-libs or create your own!
Conclusion
These hands-on fall educational activities will not only make learning enjoyable but also help your children connect with the wonders of the fall season.
Want more inspiration and freebies? Join our mailing list and get access to our members-only resource library where we're regularly adding new resources.