Check out this Friendly Chemistry Review for an inside look into this curriculum along with our recommendations.
My high schooler with dyslexia needed a chemistry course that wouldn't be too technical or too hard to complete on his own. After asking in online homeschool groups for recommendations, we found Friendly Chemistry.
Disclaimer: I received a copy of this product in exchange for my honest review. I was not required to write a positive review, nor was I compensated in any other way. All opinions I have expressed are my own or those of my family. I am disclosing this in accordance with the FTC Regulations.
Friendly Chemistry Curriculum
Here are the essential pieces of the Friendly Chemistry Curriculum:
Student Edition (this includes all worksheets)
Teacher Edition Volume 1 & 2
Annotated Solutions
Manipulatives Booklet – AKA The Doo-Wop Board
Online live-action teaching videos
There are two Teacher Editions options. Option 1 is for the single student, which is ideal for homeschooling families. Option 2 is the regular edition, which includes all possible games and activities used with co-op groups of learners. The single student edition has the group games and activities omitted.
We received the regular edition for our review. Although we didn't use the games or most activities, this curriculum would certainly lend itself to be very doable with a homeschool co-op.
The Teacher Edition include all tests and copies of the worksheets, student textbook pages, and a game plan for each lesson.
Lesson Format
The lesson format and sequence of topics in this course was very helpful for my dyslexic teen. While other chemistry courses can tend to get down in the weeds rather quickly, this course seems to emphasize big picture understanding before moving on.
In addition, instead of memorizing dozens of seemingly random facts, figures, and numbers, my teen was able to see how it all fits together and why the information is important.
He appreciated how the student book was written in a conversational way that he could understand.
Scope & Sequence
Volume 1 includes 16 lessons. These lessons are intended to take about one week each. However, since we are omitting the group games, my teen is able to complete the lessons at a quicker pace. We generally use his timetable. If he understands the lesson and completes the written work within 3-4 days, then we move on. If he needs more time on a concept, we take the freedom and spend more time on it.
Here are the topics in Volume 1:
Introduction to chemistry
The Arrangement of Electrons in Atoms
Applying Quantum Mechanics
Orbital Notation
Electronic Configuration Notation
Electron Dot Notation
Relating Electron Arrangement to Reactivity
Ionization Energy
Atom Size
Ion Formation
Determining Charges on Ions
Forming Compounds from Ions
More Complex Ions
Making Compounds with Polyatomic Ions
Introducing the Mole
Volume 2 contains another 16 lessons, making this course approximately 32 weeks long.
Here are the topics in Volume 2:
Finding Formula Weights
Finding the Percent Composition of Compounds
Writing Empirical Formulas
Putting Compounds into Reactions
Balancing Chemical Equations
Introduction to Stoichiometry
Predicting Grams of Product
Predicting Grams of Product from Grams of Reactant
Do I Have Enough Reactant?
Mixing Compounds with Water to Make Solutions
Incorporating Molarity into Stoichiometric Problems
Determining the Needed Amount of a Solution to Perform a Reaction
Properties of Gases and How Gases can be Measured in Reactions
How Changing Temperature Affect GAses
How Changing Pressures Affect Gases
The Combined Gas Laws
The Friendly Chemistry Manipulative Set
The Doo-Wop Board and its parts do need cut apart and assembled when you purchase this curriculum. The cover of the manipulative set becomes the board which illustrates the energy levels of an atom.
You will need to cut apart the white and red circles, which represent electrons.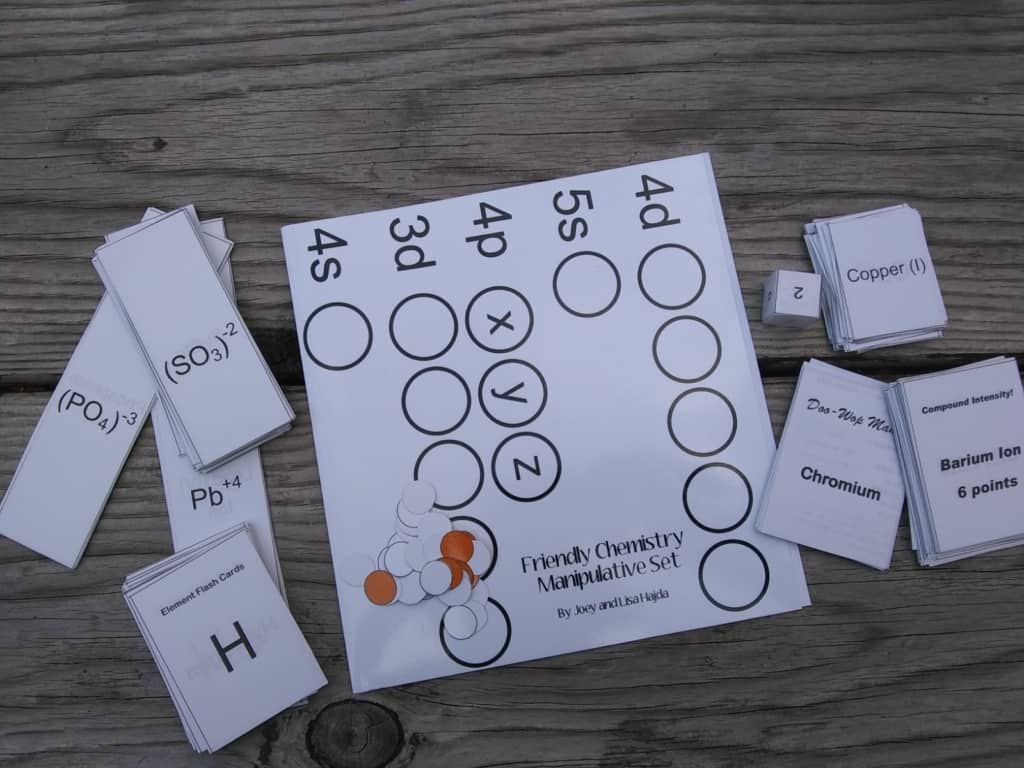 There are multiple flash cards and other game pieces that your student will use at different points in the course along with the Doo-Wop Board to illustrate chemistry concepts. I think this was a powerful asset for my son, which made the chemistry topics much more approachable to him.
The student book also refers back to the Doo-Wop Board and how it illustrates chemistry concepts and examples.
Online Live-Action Teaching Videos
Another huge benefit of this curriculum is that you can purchase access to the online teaching videos. Each lesson has one video and these are essential for my teen to get an overview and basic understanding of the material before he dives into the student text and assignments.
These teaching videos are anywhere between 30-50 minutes per lesson. Remember, this curriculum is structured around one lesson per week, so your teen can watch the teaching video at the beginning of the lesson and then rewatch as necessary until the lesson is complete.
So, there are 32 total teaching lessons in Friendly Chemistry.
This is an optional component, and purchased separately from the textbooks. In our experience, we highly recommend the teaching videos.
Friendly Chemistry Labs
The great benefit of using Friendly Chemistry with your high schooler is how this curriculum takes abstract concepts and makes them understandable.
The labs are a part of this approachable course. They are practical and use common household materials.
Here's an example of the kind of "practical" lab that you will find in Friendly Chemistry.
In lesson 31, to demonstrate Boyles Law, students will use mini marshmallows and a large hypodermic syringe to see the effects of changes in pressure upon the volume of gases. Of course, using marshmallow peeps is highly recommended, though optional.
There's a complete list in the Teacher's Edition that lists out the materials you need for each of the labs.
Friendly Chemistry Review Recommendations
If you decide to use this curriculum, we definitely recommend purchasing access to the online live-action teaching videos. We have found that with our dyslexic teen, having an overview and explanation of the lesson topic before diving into the textbook is essential. He is then able to fit the details from the lesson into the big picture.
We appreciated how the information is presented in a logical, step-by-step pattern without overwhelming the student. Each concept is presented and practiced before moving on to the next level of complexity.
Finally, the Doo-Wop Board is a great manipulative set for your kinesthetic learner. It will help your student to be able to "see" the chemistry concepts in a hands-on way.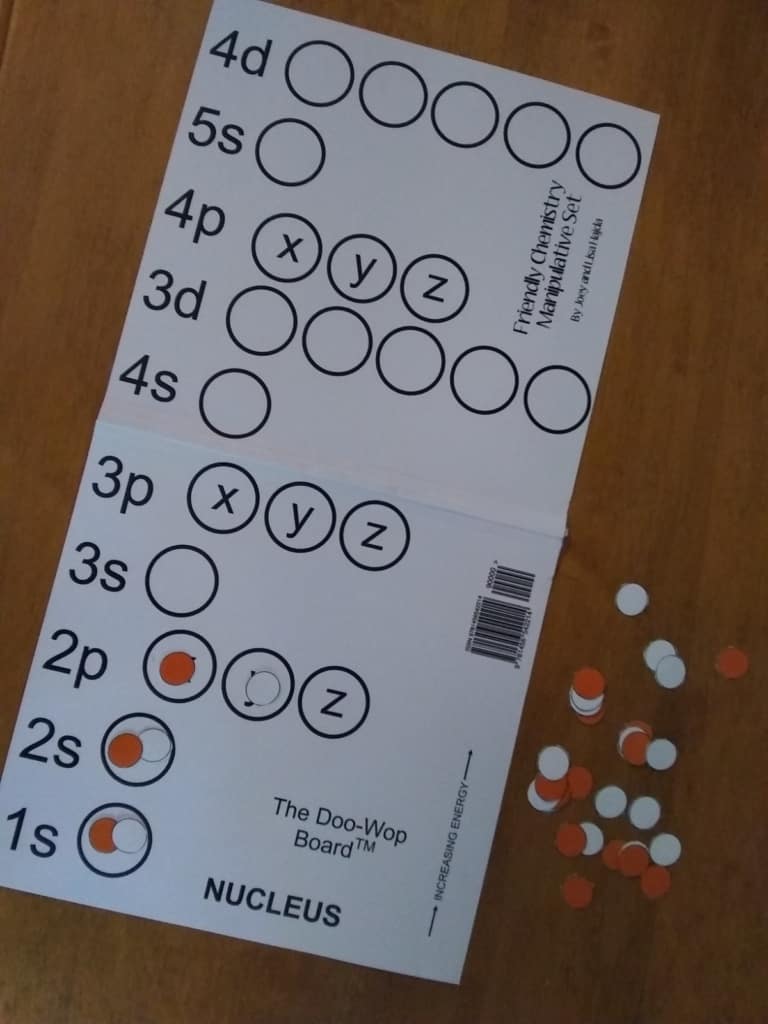 We found Friendly Chemistry to be a great option for our dyslexic student! This is clearly not an advanced chemistry course, but it provides a great basic foundation for your high schooler.
As a final note, I wanted to let you know that we used videos from Chemistry 101 of the 101 Series as an additional help for our dyslexic son to understand the chemistry concepts and topics. We used them as a supplement and overview of the new topic before jumping over to Friendly Chemistry to complete the assignments. I love the flexibility of both programs to make it work for your unique high schooler and meet their needs.