Thanks for requesting the Etsy Quickstart Guide. << click to download.
What if your teen could create a profitable Etsy shop for homeschool credit?
Introducing the Selling on Etsy Masterclass for Teens.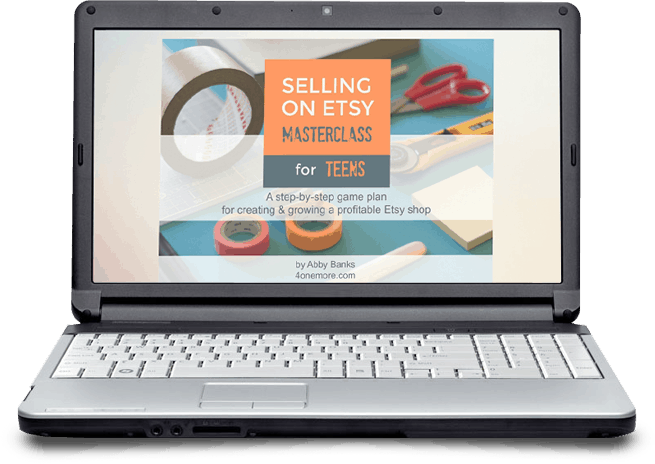 Do you need an elective credit for your homeschooled teen?
Does your homeschool teen need an elective credit on their transcript but feels uninspired by the options? Would your creative high schooler like to make money on the side while copleting coursework? Would YOU like to have all the teaching outsourced, homeschool mom?
Then the Selling on Etsy Masterclass for Teens is for YOU!
Save 40% with the coupon code moxie40
Do you have a teen that would love to sell their handmade products?
Save 40% with the coupon code moxie40
Would your teen love to make money while earning high school credit?
$0-$11K in one year!
I started my Etsy shop back in 2012 when our family was pursuing international adoption. As a one-income homeschooling family, money was tight, and my time was in high demand. I really didn't have high expectation for my new little Etsy shop, 4onemore. But month after month, it steadily grew and basically blew our minds. My shop brought in $11K in the first year!
I will guide your teen step-by-step through the process
I know exactly what it's like to want to make extra side income but also wishing I had a friend to show me how to use the Etsy platform and prevent me from making mistakes along the way.
Earn money while completing high school coursework!
And that's why at Selling on Etsy Masterclass for Teens, I am sharing a step-by-step game plan for creating and growing an Etsy shop. Your teens can earn money using their creative gifts and passions while also earning credit on their homeschool transcript! I've included details about how to count this course toward high school credit.
Enjoy camaraderie with other homeschool Etsy shop owners
I'm also including a private Facebook group for teens and their parents to join.  This setting will allow us to collaborate, ask questions, get answers, share listings, and enjoy some camaraderie with like-minded homeschooled teens across the globe.
Save 40% with the coupon code moxie40
Easy to follow, self-paced style that is completely online!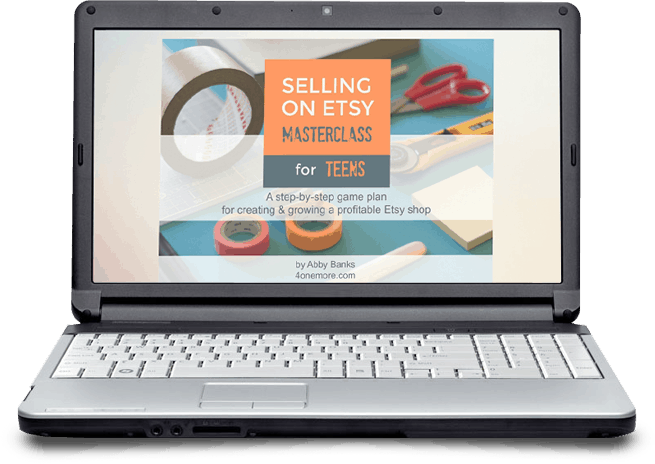 Learn about the Etsy platform
Complete Market research about potential products
Create an Etsy shop
Improve photography skills
Write professional sales copy
Learn SEO
Discover best practices for customer service
Create systems and organization
Keep track of business finances
Learn about social media & marketing an online shop
Improve at their craftEnjoy camaraderie with other homeschool entrepreneurs in a private Facebook group
If you are not satisfied with your purchase, you can request a refund.
Save 40% with the coupon code moxie40
Give your teens an advantage in this new innovation era
I really enjoyed this course is because it was easy to understand. It wasn't terribly technical, so I didn't get confused. The module lessons were also enjoyable because Abby shared some of her own experiences to keep us from making the same mistakes. Darby Swindler, age 13, Behind-the-Scenes-Assistant at Captivating Compass

My daughter took the Selling on Etsy Masterclass for teens and really enjoyed it. It was packed full of information that helped her launch her own Etsy store to sell her sewing projects and other craft related items. Abby is a fantastic teacher and includes important information about customer service that is beneficial for teens that are interested in e-commerce. The course covers everything you need to know from the planning stages to completing your first sale. I highly recommend the course if you have a crafty and/or entrepreneurial teen. Courtney of www.gracegrowedify.com

I think this course was very well put together. I loved learning about how to set key words and tags, I also learned a lot about how to create listings. This course really helped me plan out my Etsy shop and was very informative. The worksheets that were included were also very helpful. I think everyone can benefit from enrolling in this course. The tips and tricks mentioned apply to all ages and especially teens. Elena Polanco, teenage daughter of Julie from www.julienaturally.com

My teen has loved this course. It's so thorough and easy to follow that it has finally given her the confidence to open the shop she's been talking about for years. And she had her first sale within hours! Laina of www.trianglehomeschoolresources.com
Save 40% with the coupon code moxie40
Ready to make a profit on Etsy while earning credit on your transcript?
Now's your chance!
What is the Selling on Etsy Masterclass for Teens?
It is a self-paced online course with 6 modules that provide a step-by-step game plan for helping your teen (or you!) create & grow a profitable Etsy shop. I include instructions for how to use this as a ½ credit or full credit elective that can be included on your high schooler's homeschool transcript.
Who is it for?
This course is for middle or high schoolers, but it would also be helpful for homeschool moms who want help in setting up an Etsy shop. It was originally created for homeschooled students as an elective option, but non-homeschooled students could benefit from it as well!
What's included with my purchase?
Lifetime access to the online course, including updates
Printable workbook
40 FREE Etsy listings when you open your shop
Private Facebook group for teens & their parents with access to ME!
How much does it cost?
Complete access is $97. This is one price for your whole family forever – so if you have multiple teens who would enjoy selling on Etsy, that's an amazing deal! If your teen sells a couple items on Etsy, this course will pay for itself. Plus, I don't know too many high school electives that cost only $97! And your one-time purchase allows you to have access to future editions to this course absolutely free. Come join us!
But you can save 40% with the coupon code moxie40