Most of us long for the perfect date night, complete with babysitter, dinner and a movie out, and finally returning home to a clean house and the children tucked into bed.  Sounds dreamy, right?  Well, we live in reality, and sometimes there's not enough extra cash to pay for the sitter along with dinner and a tip.  Sometimes we come home from a relaxing date night to find the kids still awake and going crazy.  Sometimes we need to time with our spouse, but the effort and money to get out of the house just doesn't seem worth it.
Have you felt this way?
The problem is that we think we need to get away to reconnect with our spouse.  Maybe we imagine it can't be considered a date night if we don't spend a wad of money.  Not so.
Have you ever tried a date night in?
My hubby and I recently had a date night in, compliments of Hello Fresh, and I'm here to tell you how to make it work.
This post contains affiliate links.  I will receive a commission for purchases made through these links at no extra cost to you.  Thank you for the support.
What is Hello Fresh?
Hello Fresh is a meal plan service that delivers a box to your doorstep according to the schedule you choose.  You can pick from multiple delicious menu options and serving sizes.  Complete instructions for preparing the meals are included in your box.  They pack their boxes well, with insulated liners and ice packs, so the ingredients stay fresh.
Each meal had meat portioned out and that was packed at the bottom of the insulated box.  Pre-measured spices and condiments and fresh ingredients were divided into separate paper bags per recipe.
How much does it cost?
Regular pricing of the Veggie & Classic Plans is $9.99 per serving, while the Family Plan is $8.74 per serving, but I would never pay full price.  Just like when I tried Stitch Fix, I made sure to use a coupon or incentive.  I recommend you do the same.  >>> Click here to try Hello Fresh with a $40 discount! <<<
I ordered 3 meals for 2 people on the Classic Plan.  The regular price would have been $60, but I used a 50% discount they offered, so we only paid $30.  This gave us three complete date night in dinners for two.  That's only $5 a person!  Much cheaper than even eating out at a fast food place.
How do you make it work as a date night in?
You can choose any delivery day that fits your schedule.  Feed the kids early and settle them in for a movie night.  Or, if you have littles, put them to bed early.  (7pm bedtimes were the best!)  Then, cook your meal together and enjoy!  No babysitter needed.  Much cheaper than dinner out with tip.  But, you still get a restaurant quality meal.
Can I cancel after I try it once?
Yes!  You have the option to pause deliveries or modify your plan at any time.  I decided to give it a try with 3 meals, then assess my experience and go from there.  As soon as I ordered my first shipment and knew it was on the way, I paused the next week's delivery, then canceled the service for now.  I will definitely use it again, but I just didn't want to commit to weekly deliveries.
Are there options for me with food allergies or specific diet needs?
Yes!  Choose from the Veggie Plan, the Classic Plan, or the Family Plan.  They include recipes to fit low-calorie diets as well as vegetarian needs.
What if I'm not a cook?
I do not consider myself a cook by any stretch of the imagination.  In fact, I only cook because my clan has to eat.  But no fear with Hello Fresh!  Included with each meal is a large recipe card with detailed, step-by-step instructions and clear pictures.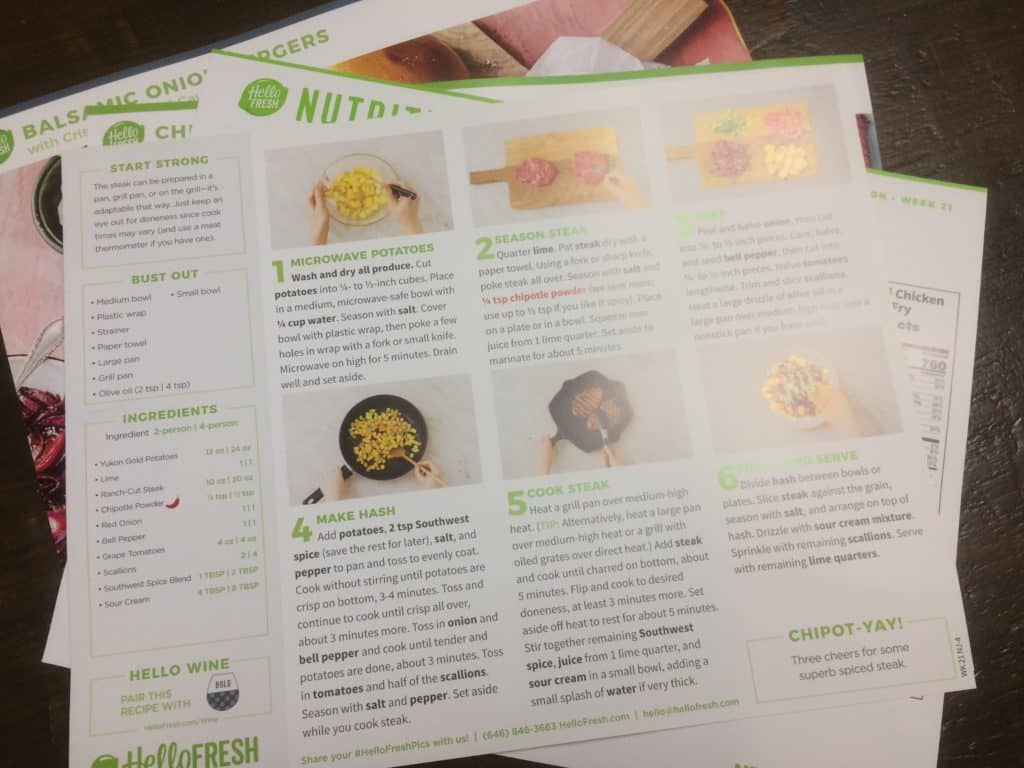 These meals were simple to make.  And I loved not having to think "what's for dinner?"  All the hard thinking was done for me.  If I can cook these meals, anyone can.
How do I sign up to try Hello Fresh?
You can try Hello Fresh for $40 off your order with my referral link HERE.
What do you have to lose?  I think it's worth trying at least once!  Just don't forget to cancel your membership after the first box if you don't want a recurring charge.  And then you can share your referral code with your friends and earn credit toward future boxes.  Win-win!
I also think this would make an amazing gift for a foodie friend!
Happy cooking,