It's the most wonderful time of the year! You can shop in your jammies with your coffee right next to you. Introverts unite – we don't even have to leave the house! If you're ready to snag some amazing Black Friday & Cyber Monday homeschool deals, then this post is for you. Yes – this is updated for 2022!
Download a 2022 Black Friday Homeschool Deals digital magazine to easily shop your favorite curriculum deals. << grab this for FREE below!
This post contains affiliate links for your convenience.
Black Friday Homeschool Deals 2022
This may be one of the best times of the year to grab your favorite homeschool resources and curriculum at deep savings. You can scroll through all the updated 2022 deals in this post (and check back often as I'll continue to add more here!).
Or, download a FREE Black Friday Homeschool Deals digital magazine to make your shopping even easier. Just click the button below!
This is still really early, but I wanted to start to get the deals to you. I'll be adding more homeschool sales into this e-magazine in the next few days! So check back for an updated copy as it gets closer to Black Friday.
All About Learning Press
Check out this Black Friday FREE Shipping offer from All About Learning Press. You'll love their award-winning programs, All About Spelling and All About Reading.
From midnight to midnight (EST) on November 25, you can enjoy free shipping on orders over $100 with coupon code FS100!
Awaken to Delight
In the new Awaken to Delight shop, you can snag some deals for morning time.
Charlotte Mason Morning Time™ sessions are EACH $10 off Black Friday weekend only (no coupon necessary).
The finished sessions are:

1. American Revolution
2. Astronomy
3. Autumn
4. Christmastide: From Advent through Epiphany
5. Foundations of Faith (Thanksgiving)
6. Winter
7. World War II
Compass Classroom
We are absolutely thrilled with Visual Latin from Compass Classroom! Totally recommend it – the teacher is amazing, the course is easy to use, and my high schooler is getting a foreign language requirement without mom needing to teach it!
You can save 30% on multiple courses with the coupon code THANKS30
Cratejoy
Unbox joy and savings with a unique subscription box, delivered right to your door.
Cratejoy is home to hundreds of monthly subscription boxes for all hobbies, interests, and passions. Discover a curated experience to treat yourself or your kids.
Black Friday is back! Save on all your gifting with Cratejoy's Black Friday Sale. Receive 25% OFF your purchase from 11/24-26 with code BF2022
Cyber Monday Sale! Save 30% OFF your entire purchase from 11/27-29 with code CM2022
No matter who's on your list, Cratejoy has something special for everyone. So many great Black Friday homeschool deals on Cratejoy this season!
Earthley Wellness
It's the biggest sale of the year for Earthley Wellness! Everything is 20% off starting November 25th.
November 25th-28th
20% OFF the entire store!
EVENT CODE: BLACKFRIDAY2022
Not only does Earthley offer herbal remedies and nutritional support, but they have great homeschool unit studies too.
This gift guide is full of their 100% natural products that are perfect for the women, men, and little ones in your life! They're also excited to share their new holiday gift sets. Download the FREE digital guide today.
eBay Reseller Mini Course for Teens
Would your teens love to sell on eBay? Learn to declutter their own belongings first, then resell for profit? I'll show them how in the eBay Reseller Mini Course for Teens. Take 25% off with code BLACKFRIDAY from 11/25-29.
Etsy Deals for Homeschool
You may not think to look on Etsy for Black Friday homeschool deals, but this site has decor, printables, and educational resources.
Here are some unique gifts on Etsy for homeschool moms and their families!
I started my Etsy shop back in 2012 when our family started pursuing international adoption. That's the whole reason behind my shop & blog URL – 4 One More.
I've been selling vintage finds & up cycled treasures to the world ever since and I love to give back to other adoptive families each year through my shop. Use the code BLACKFRIDAY22 to save 15% from my shop this season!
Generations Homeschool
Check out this huge deal on Christian homeschool curriculum from Generations Homeschool. On Cyber Monday, get 50% off all curriculum.
The Gentle + Classical Press
Save on everything from The Gentle + Classical Press from 11/25-12/17.
Save $5 on your purchase up to $25
Save $10 on your purchase of $25.01-100
Save $15 on your purchase of $100.01-150
Save $20 on your purchase of $150.01-200
Save $25 on your purchase of $200.01-275
Save $35 on orders over $275.00
Homeschool Mom Collective
Have you ever wondered, "What should I be doing this month to stay on top of the homeschooling?"
Then you'll love the Homeschool Mom Collective. It's your simple monthly plan to homeschool confidently and peacefully.
Save 25% with the code BLACKFRIDAY from 11/25-29
Inductive Bible Study Courses
You can grow your kids' Bible literacy with inductive Bible studies! Open & go, easy to follow, and no prior knowledge required – our Self Study Workbooks are ideal for students in grades 5-12. You can save 25% off our digital downloads with the coupon code BLACKFRIDAY from 11/25-29.
Or your kids in grades K-4 can enjoy a gentle introduction to the inductive method with our Little Fishes Bible Studies. Again, use the coupon code BLACKFRIDAY to save 25% from 11/25-29.
Institute for Excellence in Writing (IEW)
We really love using IEW products, and specifically their Fix It! Grammar program in our homeschool. It's been a game changer for us.
Stay tuned for more details, but just a heads-up that IEW will be running a Cyber Monday Clearance Sale from 11/28-12/2. I'll post more here when I have the information. In the meantime, check out what we love about IEW and download some free gifts.
Jim Hodges Audiobooks
Check out Jim Hodges Audiobooks Black Friday sale! Stock up now for your homeschool.
3 CDs of your choosing for $50
5 CDs of your choosing for $75
10 CDs of your choosing for $140
15 CDs of your choosing for $195
34 G.A. Henty Novel CDs for $374
Choose from popular children's recordings, Old Time Radio Shows, Classic Literature titles, or G. A. Henty historically accurate adventure audiobooks. Sale expires on 11/27/22
Masterpiece Society
My daughter & I have enjoyed art lessons from Masterpiece Society. They're easy for anyone to do, you can use the art supplies you already have, and you can even do it with your kids.
Receive 30% off ALL art courses & curriculum this weekend with the code MASTERPIECE30
Get Watercolor Whimsies: Christmas Edition for 50% off for a limited time!
Music in Our Homeschool
From November 15-30, 2022, save 30% off everything (courses and printable packs) from Music in Our Homeschool with coupon code THANKS2022. (Not applicable for memberships.)
BONUS: Spend $30 or more (before tax) and the workshop "Music 101 for Moms" (value $20) will be added to your account manually!
Night Zookeeper
Night Zookeeper is an educational online program for children aged 5 to 12+ (Grades 1 to 6) focused on using gamified learning to help reading and writing skills development.
You can use this program in multiple ways in your homeschool. Night Zookeeper offers a full language arts curriculum while transforming "boring school work" into fun and engaging games, challenges, interactive lessons and collaborative projects.
Listen to episode 172 of the Homeschool with Moxie Podcast where we discussed the ins and outs of Night Zookeeper.
Get 55% off a yearly subscription with the code: BLACKFRIDAY
Notebooking Pages
NotebookingPages.com is participating in Cyber Monday! Lifetime Memberships will be $25 off Monday, Nov. 28th.
Lifetime Membership (without apps) $97 $72
Lifetime Membership PLUS (with apps) $197 $172
The Notebooking Pages LIFETIME Membership includes:
1) ALL of our Notebooking Pages products (value > $1000)
2) All of our Step-by-Step Homeschool Helps & Tutorials
3) Notebooking Page Generator online software (value $19/yr) … for PLUS members only
4) Notebooking Publisher online software (value $49/yr) … for PLUS members only
BONUS: All the Planner Pages (value >$37)
BONUS: 12 Gifts from various homeschool publishers (value >$150)
Lifetime members receive access to everything included with their membership indefinitely.
NO RENEWALS EVER.
Until then, grab their FREE Thanksgiving & Christmas Notebooking Pages from the Free Resources Hub.
Podcast Launch for Teens
Check out the Podcast Launch for Teens and use it as an out-of-the-box speech elective for your homeschool high schooler. Save 25% with the coupon code BLACKFRIDAY from 11/25-29.
Pretty Nerdy Press
Beautiful educational posters for homeschool or classroom teachers!
At Pretty Nerdy Press, they believe children can appreciate beautiful designs. Their posters are clean and simple with natural colors and tasteful fonts.
Our friend Sara from Pretty Nerdy Press is offering 15% off orders over $50 through Dec. 3rd
We chatted with Sara from Pretty Nerdy Press on episode 90 of the Homeschool with Moxie Podcast about how she runs this side business as a busy homeschool mom! Listen in, you'll love it.
Rabbit Trails Homeschool
If you love literature-based homeschooling, you'll love Rabbit Trails Homeschool.
Enjoy a 30% discount from Rabbit Trails Homeschool with the code BLACKFRIDAY on Friday only until midnight EST (sale does not include the membership). Then, save 20% from Saturday to Monday, 11/26-28, with the code SAVE20
You can learn more about this curriculum by listening to our conversation with Christine Zell from Rabbit Trails on episode 118 of the Homeschool with Moxie Podcast.
Schoolhouse Teachers
To THANK YOU for your dedication to your children, The Old Schoolhouse® will re-release the BEST DEALS of 2022 between November 17 and November 30 only. Choose which deal works for your family to begin implementing new courses in your homeschool during an upcoming break or in the new year.
Use code: MONTHLY22 to pay only $18.97/month for the lifetime of your membership, even when our rates increase.
Type in code: MAMABEAR22 at checkout to pay only $39.97/quarter.
Looking for an annual membership? Use code: FRESHSTART today to pay only $175.50/yr.
Want to gift yourself a free year of homeschooling curriculum? The Shark BOGO deal is also making a comeback! Code: BOGO22 gifts you a free year and a locked-in annual rate of $199. (New members only. Sorry, no refunds.)
All these deals are available from SchoolhouseTeachers.com for a limited time only. Grab them while you can!
Selling on Etsy Masterclass for Teens
Want to open an Etsy shop quickly and the right way? Your creative teen can learn how to set up a profitable Etsy shop with the self-paced online Selling on Etsy Masterclass for Teens. Save 25% with the coupon code BLACKFRIDAY from 11/25-29.
The Etsy Quickstart Guide will take the headache out of navigating a beginning Etsy business and get you on your way to making your first sales! This is like sitting down for coffee with a friend and letting her help you step by step. Great for teens too! Save 25% with the coupon code BLACKFRIDAY from 11/25-29.
SQUILT
? Make Christmas School SIMPLE this year!
Would you like to have a huge chunk of Christmas schooling done for you?
Do you think it would be nice to have ONE THING all of your children could participate in together?
Would you like your children to develop an appreciation and affection for other cultures around the world?
Join SQUILT LIVE! this December to learn about Christmas traditions around the world!
There will be LIVE! lessons about Ukraine and Sweden, and a month long listening calendar with music from all around the world.
Throw in an EPIC book list and many ideas for additional activities and this is going to be an engaging and fun month of learning!
In case you're wondering…
What if I just want to participate in SQUILT LIVE! for this one month?
✔️ You can certainly do that. After joining, just remember to cancel your membership and you will have access to SQUILT LIVE! for 31 days. (The Listening Calendar is downloadable so you can listen to that forever!)
What if we can't make the LIVE! lesson times?
✔️ Every single lesson is recorded. You can view them at your leisure!
What ages enjoy SQUILT LIVE!?
✔️ We have participants as young as babies and as old as 8th grade (sometimes older!). This is a great way for your children to make memories TOGETHER during the holidays – and a little way for YOU to catch a break!
We invited Mary from SQUILT on the Homeschool with Moxie Podcast. You can listen to our conversation on episode 93.
Stitch Fix
Want some FREE clothes for yourself or your kids? Use my referral link to sign-up and they'll give you $25 credit to use on your first purchase from Stitch Fix.
Study.com
Study.com is an all-in-one membership with everything you need to homeschool, including fun and engaging video lessons for all subjects and grades, comprehensive assessments, instructor support, and study scheduling.
Use the code AbbyBanks to save 30% off for three months (new members only).
TalkBox.Mom
From now until Monday (well, until supplies last), you can get $83 OFF our TalkBox.Mom Mega Foreign Language Bundle!
The bundle includes:
The Snacks & Kitchen Box
The TalkBox.Mom Phrasebook – paperback book
The Bilingual in Nature Experience – paperback book
The Homeschool Phrases – Digital PDF
TalkBox.Mom Teal Book Bag
All with native speaker audio in the TalkBox.Mom Companion App
Choose from our 11 languages! Regular price is $183.95. Get it today for $100!
Toycycle
Shopping secondhand is one of the most eco-friendly ways to shop. Enter Toycycle.
This year they're adding to the impact by planting trees. For every $20 you send at Toycycle, they'll contribute to the planting of a tree with One Tree Planted, a non-profit organization focused on global reforestation.
Use the code HAPPY for 25% OFF your order.
Learn more about Toycycle on episode 79 of the Homeschool with Moxie Podcast.
Tuttle Twins
From The Tuttle Twins:
Our biggest sale ever. We're launching our Black Friday sale early to maximize how many people can participate in the event.
Even better, we're providing two different bundle options, each of which will be 75% OFF!
Check these out:
Two HUGE bundles, depending on if you want our children's books or eeeevvverrryyyyything. ?
We'd call these stocking stuffers but that'd have to be one MEGA stocking…
On Cyber Monday, we'll be doing a really big sale all week on our printed free market economic curriculum for families. You'll get 50% OFF their economic curriculum bundle, which includes 30 units, 120 lessons, and activities for all ages.
Those interested in teaching their kids the nuts and bolts of free markets will have a big opportunity with this sale.
You'll get our entire curriculum, along with all of our lengthy and helpful Parent Guides, at a huge deal.
UnitStudy.com
Black Friday and Cyber Monday deals from UnitStudy.com are back! Get 50% off storewide from Nov 21–28.
Why not invest in the gift of engaging, interactive, and FUN learning? Take your kids' curiosity to new heights with unit studies! Captivate your students with topical studies centered around the things they actually want to learn about!
With titles on everything from popcorn to the moon, fascinating people to the ocean blue… there's a study that's perfect for your unique kids!
For one week only—November 21–28—you can get 50% off EVERYTHING at UnitStudy.com!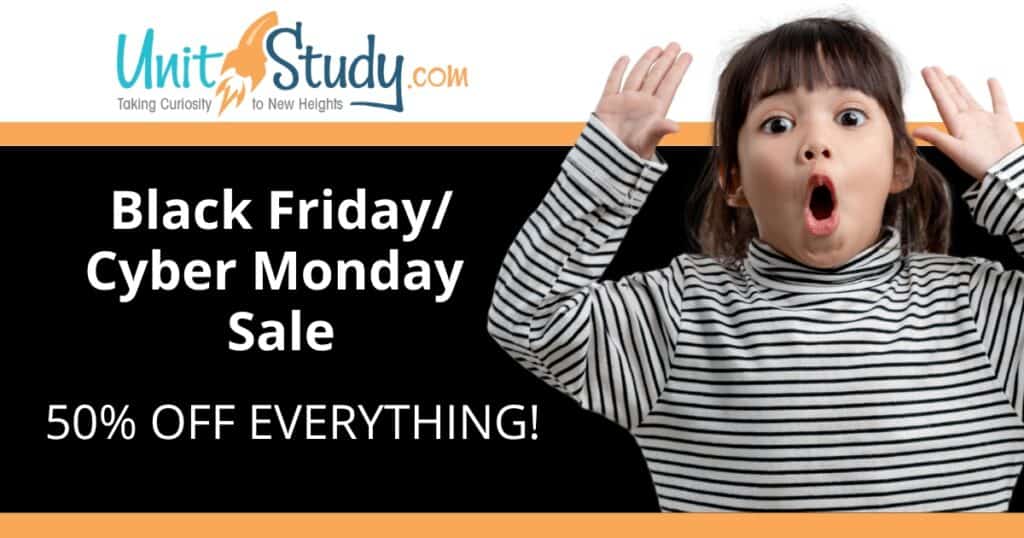 Related Posts
I hope this post helped you find some amazing Black Friday homeschool deals! Happy shopping.
And if you love to receive deals & freebies all year long, you need to join my email list!
Christmas Gift Ideas for Moms & Dads
Christmas Gift Ideas for Kids & Tweens