Getting the kids involved with making DIY gifts for neighbors, family, and friends is a fun activity to plan for in the next few weeks. This DIY Firestarter Gift is beautiful and requires lots of time out in nature to gather materials, so that's a win in my book! Follow along for step by step instructions plus free printable gift tags.
This post contains affiliate links for your convenience. I will receive a commission if you purchase from these links. Thank you.
What is a Firestarter
Firestarters are little packages of combustible materials that can be used to start campfires or fires in a home wood stove. They make great gifts, because in addition to being pretty or aromatic, a firestarter takes a bit of the frustration out of starting a nice fire. The one little package has everything you need to get a fire going without resorting to lots of extra materials.
You can make firestarters out of dryer lint, wrapped up newspaper, and bits of cardboard, but it's a lot more fun to create them with found materials from the outdoors! Here's what to collect.
DIY Firestarter Materials
The best part of this DIY Firestarter project is that it requires time in nature! Plan a nature walk with your young kids, or the older kids can go scavenging in the woods all by themselves. It's super fun to see what you can find and to take time to enjoy the shapes and smells of the debris in the woods.
Here's what we collected:
Dried flower heads
Sawdust
Pine
Pinecones
Curled bark
Small colorful leaves
Small sticks
You can also add in cinnamon sticks from the pantry for an extra nice aroma.
Here are the other materials to have on hand:
Collect old wax candles or purchase wax
Cupcake liners
Cupcake pans
String or wick
Pot for boiling water
Old can or glass jar for melting the wax
Making the DIY Firestarter
So of course, first collect your natural materials. Since part of the fun of these firestarters is the visual aspect, see if you can collect a nice variety of shapes, colors, and textures from the outdoors.
Next, line your cupcake pan with paper cupcake liners and then fill the cupcake liner with as many natural items as you can. Try to have everything stand up straight in the liner and pack it tight. Put a 2-3 inch piece of string or wick in the middle of each cupcake liner.
Melt down old wax candles or newly purchased wax in a double boiler. You'll want to use an old can or glass jar for the actual wax melting process so that you don't ruin your good pot!
Once your wax is melted, carefully pour a small layer into each cupcake liner to fill the bottom with enough wax to hold all the items secure when the wax hardens. This is where mom may want to take over the assembly process! Or at least supervise to make sure the hot wax is being handled carefully. Make sure the wick is standing up straight out of the wax!
These fire starters really do work! After photographing our first batch (the ones with the cupcake liners still attached), we realized that they work better if packed more tightly with materials. So, we made a new batch and they look more dense, but still naturally beautiful.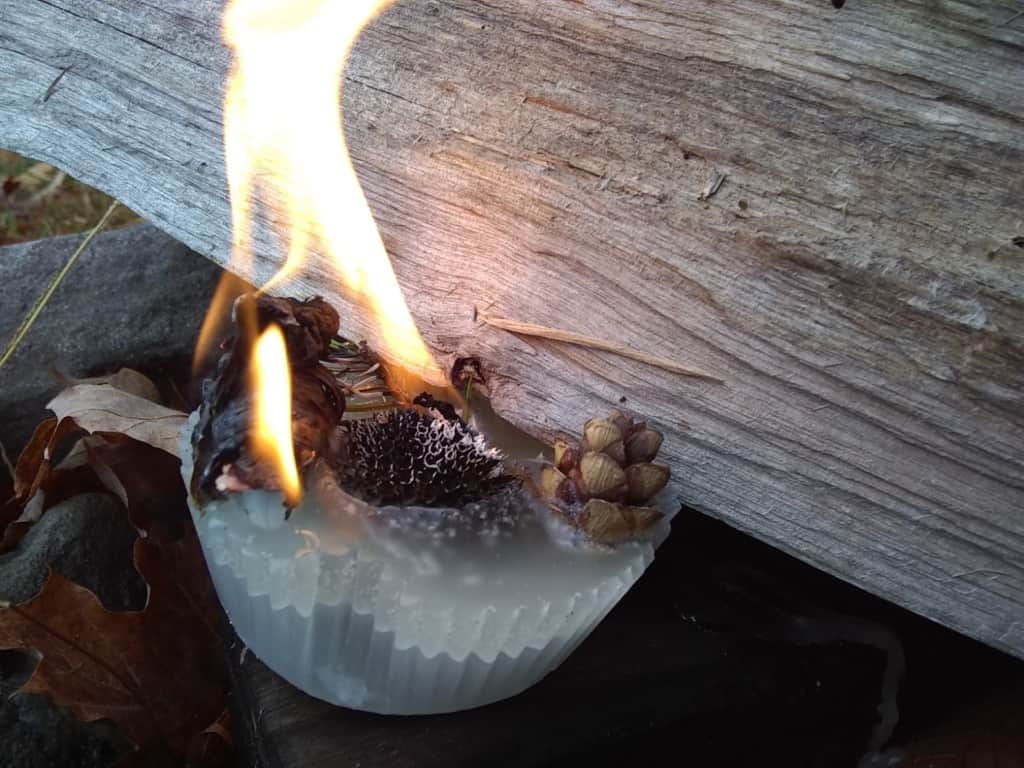 DIY Firestarter Packaging
Once all the wax is hardened and you're happy with the finished Firestarter, go ahead and remove the cupcake liner. It should peel right off and you can reuse them.
Or, if you like the look of the cupcake liners, you can certainly keep them on. After all, they're flammable, which is what you want. It just depends on the look you're going for.
Now it's time to package your firestarters.
You could simply use paper lunch sacks on their side filled with several firestarters. But if you want your gift recipient to see the firestarter through the packaging, then consider purchasing clear cellophane bags. The dollar store might also have some clear packaging options for cheap.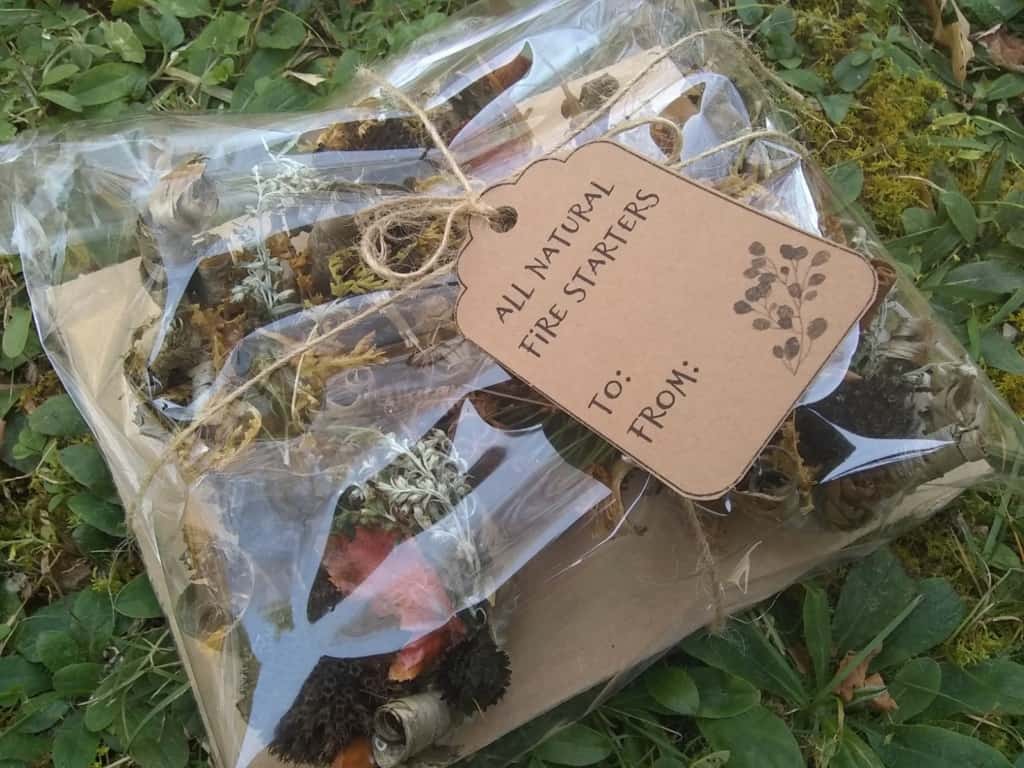 Grab some free printable gift tags below to put on your DIY Firestarter gift. But first, if you want a non-wax option for your younger kids, then here's how to do it.
Non-Wax Firestarter for the Younger Kids to Make
If you want a Firestarter that your younger kids can make and not have to deal with any wax, then these aromatic options are perfect. They will even get to practice their fine motor skills with some easy sewing.
First, collect natural aromatic items. You can use some from outside like in the wax firestarters – pinecones, sawdust, pine branches, and more. But since you don't see what's inside these firestarters, you'll want to focus more on the smell.
Consider adding these items:
Apple or citrus peels
Cinnamon stick
Cloves
Pine needles
Have your kids put the items in a natural colored cone coffee filter. Then, they can sew the edge shut with colored embroidery thread. Finally, package several together and add a gift tag.
These firestarters will get a fire going while also smelling wonderful!
Okay, grab your free printable gift tags below.
Free Printable Gift Tags
More Christmas Activities for Kids
Are you looking for other amazing Christmas Activities for Kids? This year I joined forces with some of my fellow homeschool bloggers to bring you some fun activities to try this holiday season. Check out the links below!
Ornaments
Woodland Birds Ornament from Heart and Soul Homeschooling
Here's a fun project that your kids can make by themselves if they can handle a glue gun. It would be especially fun if you're also doing a unit study on birds! The possibilities are endless, and these would make cute gifts for the grandparents.
Scrabble Tile Christmas Ornament from I Choose Joy!
Scrabble tiles are such a fun craft supply! These ornaments make a sweet handmade gift that the kids can make. Or, create some for your own tree. Gena shares a fun idea in this post to personalize it even more.
Handprint Candy Cane Ornament from Homegrown Motherhood
I just love sentimental ornaments, and here's a really cute one for your young kids. Grandparents would love this! Plus, it makes a great addition to your own family tree.
Nativity Sets & Advent
Gingerbread Nativities from Hess Un-Academy
Charlene breaks down all the steps and materials needed to create some great nativity sets made of edible goodies. They even rate all the supplies so you won't waste money on stuff that won't work well.
Nativity Set for Kids to Make and Play With from Orison Orchards
This is a great kid-friendly nativity set that will be loved for years to come. I agree with Amy that it's awesome to let our kids touch, play with, and love the family nativity set. Let this post inspire you to get the kids involved with making a nativity set this year.
Simple Christmas Family Traditions: An Advent Tree from Whole Child Homeschool
We've done Advent trees, or Jesus trees before, but never to this extent! Here's a really neat idea, complete with building plans, for your own Advent Tree. I bet your teenagers could build this out of scrap wood!
Family Activities
Christmas-Twisted Classic Board Games from The WOLFe Pack
Katie shows how you can take classic board games that you probably already own and give them an update for the holidays! These are fun ideas to include in your homeschool during the weeks leading up to Christmas when you just need a fun break from the normal academics.
Cultural Family Night: Christmas edition from Stand Up, Reach Out
You can download a free cultural family night pack that will give you ideas for celebrating Christmas around the world – from recipes, to Christmas traditions from other countries, to music and crafts.
Outdoor Christmas Activities for the Whole Family from An Off Grid Life
I need all the encouragement I can get to move myself and the kids outside. As my kids get older, then tend to congregate indoors more. But, here's a fun list of outdoor activities for everyone. I think my seven-year-old will especially love the winter foraging idea.
Simple Christmas Activities for Busy Working Homeschool Moms from Thrive at Home
If you're feeling absolutely overwhelmed with all the ideas in your head, then check out this list of 21 simple Christmas activities that you can do with your kids.
Science, Math, Crafts & Stocking Stuffers!
Holiday-Themed Science Projects from Homeschool On the Range
I've never thought of doing a candy cane volcano outside in the snow, but this post has me inspired! Check out these really fun science ideas for your kids.
Christmas Cakes One More One Less Printable Worksheet from The Art Kit
Here's a cute Christmas cakes printable that will make math fun for your littles! It helps your young kids understand the math concept of one more, one less.
Easy, Cheap, Stocking Stuffer Ideas for Kids from Julie Naturally
I'm always looking for great stocking stuffer ideas, and Julie provides some unique ones! Plus, some of these might sneak in some learning, too.
How to make a fork painted manger set from Our Crazy Adventures In Autismland
What a creative Christmas craft idea for your young kids! If you're a ministry leader, you might even consider using this with the kids at church.
Heart Nativity Paper Craft from My Joy-Filled Life
If you want super simple, minimal supplies required, and something even the preschoolers can make, then here's your holiday craft!