Maybe you know you should include some music appreciation lessons in your homeschool, but you're just not sure how to do it? Listen in on my conversation with Mary Prather of SQUILT Music. She's a homeschool mom and former elementary school music teacher and we chat about how to include music appreciation in your homeschool. It's more simple than you think!
Welcome to the show notes for Episode #93 of the Homeschool with Moxie podcast!
As a former classroom teacher, now homeschooling mom of five, I love to equip and encourage other homeschooling families.
Stick around to learn how to homeschool with moxie. It's about embracing your journey and finding your groove.
This post contains affiliate links for your convenience. I will receive a commission if you purchase from these links. Thank you.
About Mary Prather & SQUILT Music

Mary has an undergraduate degree in Music Education from Southern Methodist University and a Masters Degree in Education from Georgia State University. After much experience in public schools and then in her own homeschool, she discovered a need for quality music appreciation materials.

SQUILT is designed to be simple and enjoyable – while at the same time exposing children to the highest quality of music. All of the work has been done for you! Use self-guided volumes (no music knowledge required) or let Mary teach your children in SQUILT LIVE!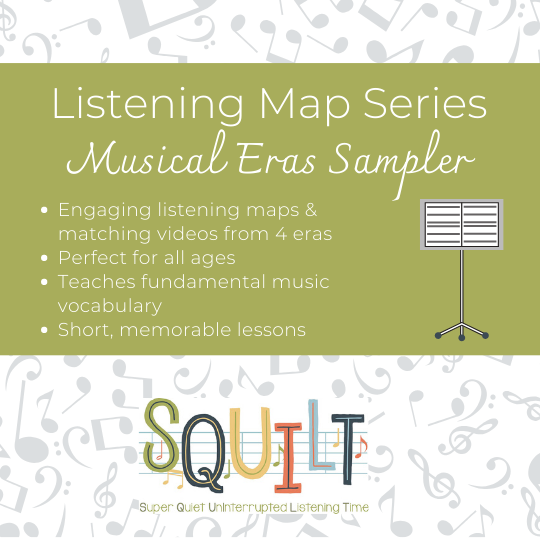 How to Include Music Appreciation in Your Homeschool
In this episode, we chat about these topics:
What does music appreciation include?
Can you tie in other subjects?
What are the benefits of including music appreciation in our homeschool?
How can moms DIY music appreciation? What are the top 3 things to start doing?
Tell us about the supplies, resources, or technology we need to have to include music appreciation in our homeschools.
How can SQUILT help homeschool families?
If this podcast is an encouragement to you, become a supporter of the Homeschool with Moxie podcast with a small monthly donation! This will help sustain future episodes. Learn more HERE.
Resources from today's episode
Here are a few links that might be of interest:
You can also connect with Mary on Instagram:
Related Posts
Finally, if you want to find more resources and ideas for adding music appreciation into your homeschool, then check out these other podcast interviews and related posts.
The Music Podcast for Kids: Interview with Bill Henry – HWM #73
Music Lessons for Homeschool Students: Interview with Inga Hope from Gentle Guitar Online School – HWM #34