Are you a homeschool mom with a love of crafting, or thrifting, or printable creation?  Would you like a way to make an income on the side while working from home and still homeschooling? Then selling on Etsy might be the perfect side gig for you!  I have been selling on Etsy since 2012, and I was able to earn $11K from my shop in the very first year while working in the margins of my busy homeschool mom life.  You can do it too and I'll show you how.
This post uses affiliate links.  They don't cost you a thing and help us bring you excellent content.
Why I Started Selling on Etsy
In 2012, our family signed the papers to begin an international adoption.  Whew, they are expensive!  My husband is a pastor, and I was a stay-at-home homeschooling mom.  We didn't exactly have thousands of dollars in our back pockets to fund the adoption.  But we knew God had called us to the journey and we were thrilled to be Making Room 4 One More in our home! That's how this blog was named.
I saw some chatter on Facebook about some of my friends checking out the Etsy site.  I had never heard of it before.  But when I looked into it further, it was the perfect combination of using my skills and interests while helping to fund our adoption.  And the time commitment was totally flexible, so homeschooling wouldn't be a problem.  In fact, homeschooling and adoption are very intertwined in our family's story.
So by September of 2012, my little shop, 4onemore, opened on the Etsy platform.  I didn't have high hopes.  Honestly, I didn't really have expectations at all.  And so a year later, looking back at $11K in our pockets for our adoption – and all from selling crafts I made in my free time – we were blown away.
When I hear from homeschool moms, the common financial and time concerns are:
you have no family in town to help watch the kids so you can work outside the home
homeschoolers are usually one-income families
you want to earn a side income
you want to have a creative outlet
And I have found that having an Etsy business brings solutions to these common issues.  If you're a creative homeschool mom, I think you should give Etsy a try.
Here's why selling on Etsy is a great fit for homeschool moms
you can work from home
it's a low risk to open a shop (at only 20 cents per listing)
Etsy brings the traffic to your shop
the Etsy site has an intuitive set-up
you can earn a great side income while homeschooling
you can have a creative outlet
you can work in the margins – nap times, after the kids are in bed, Saturdays
You can work as little or as much as you want
How it looks today
Having a creative outlet away from the kids (even in another room!) is great therapy for me as an introvert.  Homeschooling five kids is mentally exhausting, so I use my time in my "Etsy shop" to enjoy the creative process, listen to podcasts while I'm packing orders, and just generally recharge from a full day.  Since we can pack up the school books when we're done and don't have the typical after school homework and dinner scramble, I have the flexibility to spend a few hours each afternoon working on orders if I so choose.
The beauty of having an Etsy shop is that you can put as much or as little time into it as you want.  In the season when I'm putting more time in working on listings, I do see a successive jump in sales.  But if I'm busy with other things, my shop will still be there when I can put more time into it.  If you want a peek into my day, you can find it at a Day in the Life of a Homeschool Mompreneur.
How to get started
I hope I've convinced you that selling on Etsy and homeschooling at the same time is totally doable!  It's hard to believe that I've been doing just that since 2012.
If you want some more detailed explanations about what's involved, you can check out this series of posts I wrote about Selling on Etsy.
Selling on Etsy:  An Insider's View
Selling on Etsy:  My Craft Room
Selling on Etsy: Tools, Supplies, Shipping & Storage
And if you decide to open a shop, please email me first at abby@4onemore.com and I will send you a link for 40 free listings!
Check out the Etsy Quickstart Guide to help you get started. It will walk you through the essential parts of setting up your Etsy shop and listing your first item.
I found Abby's Etsy Quickstart Guide to be just what she promised, a friend sitting down and helping me set up my shop step by step. Her tips are very helpful, especially for writing hit generating titles. I highly recommend it! (Rose, Prairiekeet.etsy.com)
Or your creative teen can start an Etsy shop and count it as elective credit on their homeschool high school transcript using the Selling on Etsy Masterclass for Teens.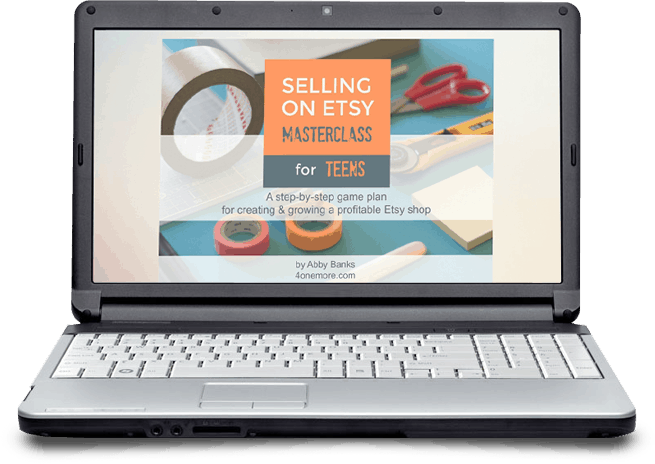 You can also download the Etsy Quickstart Checklist for FREE below.